Ever since the previous article on the WGA strike was published over 3 months ago, the situation has grown into an all-out war between Hollywood and the workers behind the movies. If you haven't read the previous article, you can check it out here. But if you have, let's see where we are now in the war behind the movies.
Recap
For a refresher, the strike started when a deal between the AMPTP (Alliance of Motion Picture and Television Producers) and the WGA (Writers Guild of America) that included compensation for streaming-related projects and protection against artificial intelligence, fell through. Thus the WGA declared a strike causing multiple upcoming movies and shows to be put on hiatus due to the lack of writers. 
Including anticipated projects such as Stranger Things 5, Spider-Man: Beyond the Spider-Verse, and an untitled
Story continues below advertisement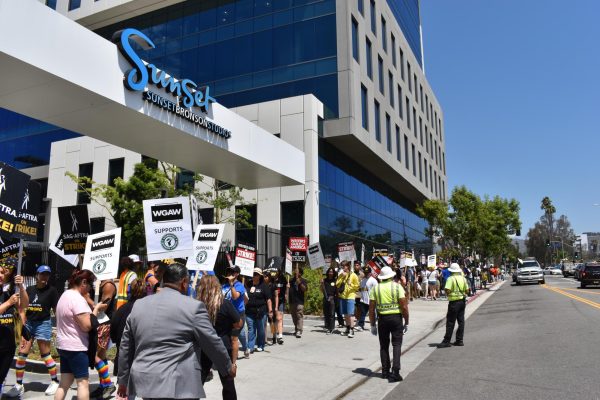 Sequel to Ghostbusters: Afterlife to name a few. Actors such as Bryan Cranston, better known as Walter White from Breaking Bad, have been striking alongside each other to pay for better working conditions.
Big figures in the entertainment industry such as James A. Janisse who has devoted his career to his YouTube channel named Dead Meat. Which is popular for its unique collection of kill counts along with commentary on horror flicks. 
Studios have formed a union to rebel against Marvel for poor working conditions and sub-par pay. In an interview with Marvel VFX coordinator, Sarah Kazuko Chow explained, "…when I started my first job at Marvel, I felt like I couldn't complain about the unpaid overtime, the lack of meal breaks, and the incredible pressure put on VFX teams to meet deadlines because I was just supposed to be grateful to be here at all."
How were the studios affected?
For a whopping 3 months, studio executives never really tried to make any progress with making an agreement with writers. In fact, many would say that they have instead gone backward throughout the course of the strike. For instance, Disney CEO Bob Iger made an appearance on the CNBC talk show, Squawk Box, claiming that the wages that they're fighting for are, "…just not realistic. And they are adding to the set of the challenges that this business is already facing that is, quite frankly, very disruptive."
A report from Variety has stated, "For big-budget projects like Gladiator 2 and Deadpool 3, the cost of holding on to soundstages packed with sets and costumes runs about $600,000 per week," one media CEO estimated.
Previous to that, in a Deadline report, an unnamed AMPTP executive has gone on record saying, "The endgame is to allow things to drag on until union members start losing their apartments and losing their houses." Essentially saying "We are planning on playing the waiting game until writers start going homeless and starve until they have no choice but to accept any deal we give them." 
In an interview with MECA's (Mt. SAC Early College Academy) Vanessa Ramos-Garcia who has previous experience acting on things like Dhar Mann and a SuperBowl Chipotle commercial, she said, "[If I were to meet with an AMPTP executive] I would tell them to just think humanistically. Think about how other people are feeling because realistically is they're just thinking about their money. And I think it's very, very greedy."
Is the strike still going on?
Thankfully, it was announced on Sunday by many sources that the executives and workers had come to a "tentative" agreement. Meaning that as long as all parties involved keep their noses clean, all will be right. Nearly, as the strike is still in force without picketing throughout the guild's approval of the new deal. However, all that matters is that the workers of Hollywood finally got the deal that they deserve after all the hard work they put into the shows and movies we all know and love. 
Sources:
https://www.cnn.com/2023/09/13/business/marvel-vfx-workers-union-vote/index.html
https://variety.com/2023/film/features/hollywood-chaos-strikes-movie-delays-pay-battles-a-i-anxiety-1235673080/