Mahsa Amini: Her Story Brings Awareness
DISCLAIMER: While protests are currently happening in the country of Iran over the laws forcing women to wear the hijab, The Academy Chronicle chose to discuss these very serious matters with MECA students who wear the hijab, but have no ethnic or national connection with Iran as the forced wearing of the hijab is a topic that greatly impacts them. Not all wearers of the hijab are Middle Eastern or Iranian. Not all muslims are Middle Eastern or Iranian. The TAC Media Program stands up for the right of MECA students and those in Iran to choose for themselves on whether to wear the hijab or not.
"The hijab is considered a personal journey between you and Allah. In no circumstance should you be forced to wear it and killed if you don't. What Iran is currently doing goes completely against Islamic ideals," wrote Mt. SAC Early College Academy sophomore and practicing Muslim and hijabi-wearer Maab Masri.

On September 16, 2022, 22-year-old Mahsa Amini died in Iran while in police custody. The cause of her death was allegedly due to her being beaten by law enforcement, nicknamed the "morality police," after being arrested for reportedly breaking Iran's strict rules on wearing the hijab. Her death sparked protests in at least 50 Iranian cities and across the world.
"It angers me that she was murdered so heartlessly, and a lot of women are standing up for justice in her name," said senior and practicing Muslim and hijabi-wearer Asrar Mohamed. "[Her death] makes me feel like we are taking a step backward and violence against women is being justified in the most inaccurate forms ever."
After pictures of Amini and her injuries surfaced online, individuals took to the streets burning their headscarves and chanting "death to the dictator." After women began attending protests with shaved or cut hair, many others stormed to social media to do the same in an attempt to challenge the system.
While some wholeheartedly approve of the protests and support their mission, others are also frustrated by the message it sends to women who choose to wear the hijab. "I think that the approach might be a little insensitive towards the hijab because they are burning them, giving the impression that [the hijab] is not sacred and holy," Mohamed worries. "The government is responsible and at fault so they are to be held accountable for her death, not the hijab."
Masri mentioned that they have seen many social media posts in which women are asked to take off the hijab by others, in order to show support. And according to Masri, this is a form of Islamophobia. "It is still control if you're forcing them to take it off…Asking someone to take off their hijab to support Iranian women is implying that the hijab is what is oppressive and not the government," says Masri.
In former protests, the hijab has been used as a symbol of struggle, maltreatment, and human rights.
"Well, the hijab during the time of the shah [before 1979] was actually used as a symbol of resistance as well," said National Iranian American Council Research Director Assal Rad to NPR reporter Scott Simon. "And so that's one of the things to keep in mind when we're looking at these protests and the fact that women's rights and the hijab is at the center of it. It's not necessarily a protest against the religion at large, right? It is a protest against the enforcement, the compulsory hijab."
"
It's not necessarily a protest against the religion at large, right? It is a protest against the enforcement, the compulsory hijab.
— Assal Rad
Mahsa Amini's Death
What enraged the public the most was when Iranian authorities claimed they had no wrongdoing. They stated that Amini died of a heart attack. However, Amini's father, Amjad Amini, noted to BBC Persia the number of bruises and apparent injuries to Amini's body.
Iran's official government news site released her autopsy report. In summary, it stated that "her crucial body parts were not hit with hard objects." Instead, they focused on a childhood illness: when Amini was eight, she underwent Craniopharyngioma brain surgery. It's being claimed by the authorities that "due to her chronological disease she could not adapt herself with the emerged conditions… her heart pulse was disrupted, her blood pressure dropped, and after that she lost consciousness,… she was exposed to severe hypoxia of [the] brain… [and] the patient due to [multiple organ failure] malfunction died." The state also included brain and lungs CT scans, as well as video footage, in an attempt to support it.
The Amini family lawyer, Mohammad Saleh Nikbakht, told the Iraqi Kurdish network Rudaw, "that unlike claims pressed by the Islamic Republic that she had pre-existing conditions, Mahsa was in excellent health and had been looking forward to starting her studies at Urmia University." And later stated that the claims of her having a chronic illness should not be taken seriously.
The BBC reports at least 76 protesters have been killed in the span of 11 days.
Sadly, another young girl, 17-year-old Nika Shakarami was arrested and killed, allegedly for participating in the Iran protests on September 20. The Iranian government claimed that she "had fell [sic] down from an adjacent building," but her family denied this, much like Amini's father. Family members reported that her head appeared beaten in from multiple hits.
History of the Hijab in Iran
"A regime change can very often just be devastating for a country. If you put [in] a new leadership, sometimes that leadership is weak," said Gabe Nichols, MECA history teacher. "Thus, then other factions will fight for power. And so, regime change can easily turn into civil war, which could devastate the country for decades, a couple of decades."
This was what happened in the 1930s and later with the Islamic Revolution in the 70s. In 1936, the new monarch made the first attempt to use the hijab as the subject of legislation, ironically making all females who wore the hijab remove it in public.
"From 1941 to 1979 there was no law that instructed women what to wear, but many women still wore headscarves… The 1979 Islamic revolution introduced the idea of hijab law," wrote Sahar Maranlou, a Middle East and North Africa coordinator at the Global Access to Justice Project and lecturer at the University of Essex, in an article on The Conversation.
On March 8, 1979, thousands of Iranian women marched through the streets, in order to protest the idea of compulsory wearing of the hijab, using slogans like "freedom of choice in clothes" (Maranlou). Despite these protests, four years later, in April of 1983, "all women have been legally obliged to wear hijab in public, even non-Muslims and foreigners visiting Iran," stated Maranlou.
The government in the 70s used parts of the Quran, Islam's holy book, and the Hadiths, sayings of the Prophet Mohammad, to justify their actions. However, some argue that their use of religion is just a cover. "What is going on in Iran right now has zero connection to Islam. It's all just the government controlling its women," Masri declared.
"The men of the country are taking advantage and oppressing the women while using the excuse that it's their role as men to take action," Mohamed agreed. "The hijab is not meant to be forced; it is a choice given to you, unlike how Iran is promoting it."
"
The men of the country are taking advantage and oppressing the women while using the excuse that it's their role as men to take action. The hijab is not meant to be forced; it is a choice given to you, unlike how Iran is promoting it.
— Asrar Mohamed
After the law went into place, the morality police heavily enforced the new dress code. They walked the streets, detaining people wearing what they saw as "inappropriate" clothes. Before this, millions of Iranian women wore their head scarf loosely and let it fall to their shoulders.
"The situation makes me really sad and frustrated. Women have been objectified and controlled by men for so long," said Mohamed. "It makes me feel like we are taking a step backward, and violence against women is being justified in the most inaccurate forms ever."
Things that students can do
While it is easy to feel helpless when faced with such a large issue, there are still things that students at MECA can do to help those in Iran. According to Persis Karim, a San Francisco University professor and the director of the Center for Iranian Diaspora Studies, in an interview with KQED Public Television, here are some things people can do to support Iranians:
Spread the Word
Follow social media accounts by people from Iran, and share them with friends and family. Actress Nazanin Boniadi (@nazaninbodiadi on Instagram) is the Amnesty UK Ambassador and was born in Iran. Another account, @middleeastmatters (Instagram), is a Youth Organization supporting human rights in the Middle East. Both post about the protests and injustices happening.
Read books written by Iranians about their experiences. Persepolis is a graphic novel by Marjane Satrapi that is read in Andrea Pedroarias's English II course. Other books to check out include Reading Lolita in Tehran by Azar Nafisi, Darius the Great is Not Okay by Adib Khorram, and It Ain't So Awful, Falafel by Firoozeh Dumas.
"When you are educated, you can communicate with others and have progressive conversations and make a positive difference," Mohamed explains.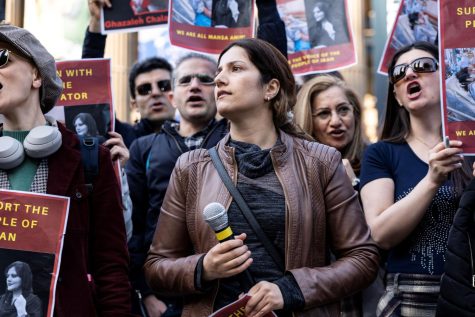 Contact Your Local Congressperson
Write to your local congressperson to show that this issue is important to you and to request the US government to take action.
Find your local Congressperson here.
Join a Club.
JSA, the Junior Statesmen of America, is a club on campus that encourages students to engage in politics and civic responsibilities. They meet in Room 20 every Thursday at lunch.
UNICEF is a humanitarian organization that supports children's rights, including the right to gender equality and the right to live a life without violence and abuse. They meet in Room 3 the second Wednesday of the month during lunch.
Sources
https://www.cnbc.com/2022/09/23/mass-protests-in-iran-is-the-regimes-biggest-challenge-in-years.html
https://www.npr.org/2022/09/21/1124237272/mahsa-amini-iran-women-protest-hijab-morality-police
https://www.theguardian.com/global-development/2022/sep/23/mahsa-amini-death-could-be-spark-broader-political-action-iran
https://www.cnn.com/2022/09/22/middleeast/iran-protests-mahsa-amini-father-internet-blackout-intl-hnk#:~:text=Amjad%20Amini%2C%20whose%20daughter%20Mahsa,his%20daughter%20after%20her%20death
https://www.globalcitizen.org/en/content/jina-mahsa-amini-death-what-to-do/
https://www.npr.org/2022/09/30/1126281355/the-history-of-irans-so-called-morality-police
https://www.bbc.com/news/world-middle-east-14542438
https://en.irna.ir/news/84904885/Nika-Shakarami-s-death-unrelated-to-recent-unrest-Prosecutor
https://en.irna.ir/news/84906088/Legal-Medicine-reports-on-reason-for-Mahsa-Amini-s-death
https://www.bbc.com/news/world-middle-east-63047363
https://www.bbc.com/news/world-middle-east-62998231
https://www.npr.org/2022/10/01/1126387760/why-the-hijab-is-at-the-center-of-protests-in-iran 
https://theconversation.com/hijab-law-in-iran-over-the-decades-the-continuing-battle-for-reform-192037 
https://en.irna.ir/news/84889658/Iranian-police-releases-footage-of-young-woman-died-after-arrest
View Comments(1)
Donate to The Academy Chronicle
Your donation will support the student journalists of Mt. SAC Early College Academy. Your contribution will allow us to purchase equipment and cover our annual website hosting costs.
About the Contributors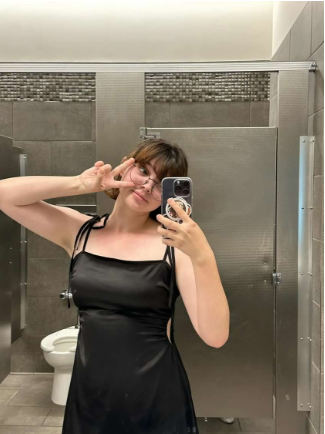 Annika Wotherspoon, Co-Editor in Chief
Annika Wotherspoon is currently a junior at Mt. SAC ECA and is currently in her third year on The Academy Chronicle staff, this year as Co-Editor in Chief....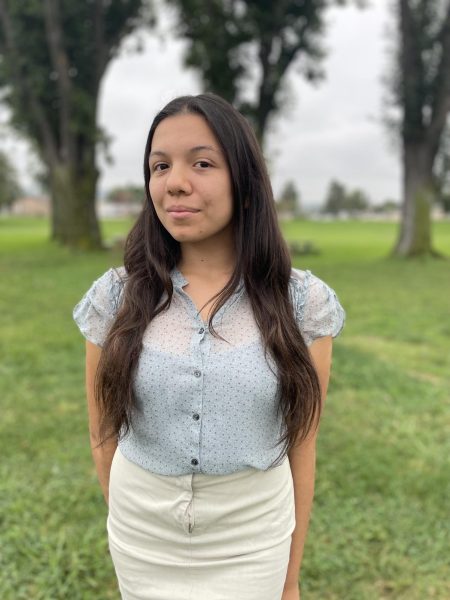 Sofia Hernandez, Staff Writer
Sofia Hernandez is a staff writer for The Academy Chronicle. She is a sophomore and this is her second year in journalism. Sofia enjoys crocheting, skateboarding,...