A Groove To Remember
The 70's Back to School Dance on October 1st at Mt SAC ECA was a great way to inspire students to interact with one another, by dancing on the crowded dance floor and mingling with their peers.
This event was meaningful to the students and teachers since they haven't had a dance in so long and this brought many memories and friendships together. 
 "It's so wonderful seeing all these students here together on campus," said English teacher Courtney Bell, "when last year it felt like this was never gonna happen again."
Dancing with music brought to them by SOS Entertainments with DJ Nick and lights by Cody.
Students and staff who dressed up for the occasion followed the 70s theme, dressing up in high flared jeans, colorful dresses, tie-dye shirts, jumpsuits, with hippie clothing and, on top of all that, retro glasses together with other classy 70s looks.
"I love that a lot of students were able to get dressed up really nicely," said Math teacher Ms. Guevara, "and it's really fun to see how everybody's interpretation of the 70s is, which I really love. There are also some students who didn't dress up but it's pretty cool, everybody is having fun, they're all dancing and it's fun."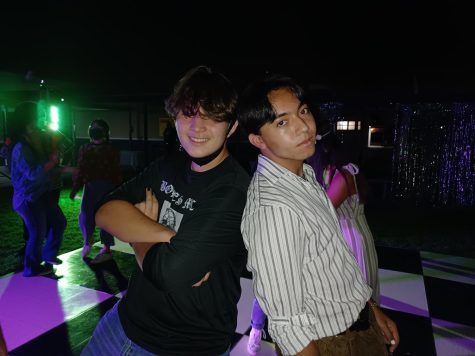 The event was a full MECA community occasion, as several families donated a ton of snacks and ASB decorated the hallway with silver strings, balloons, and Christmas lights with disco balls hanging from the quad area all the way to the hallway pole. 
"The dance is very fun, everyone's dancing, the dance floor is full right now," said Spanish and World History teacher Sr. Cordero,  "personally, I think that as long as we have dances the school year will be much better and a lot of fun."