The Quests For Desks: A Local Business Helping Local Students
Three local Los Angelians, Daisy Figueroa, Joseph Rios, and Francisco Millar, have started to design and build space-saving and cheap desks for students around Los Angeles. With school at home, students as well as parents have been struggling to find space or even the money to afford a desk for their kids for the new school year.
Daisy, Joseph, and Francisco first started by renovating Daisy's parent's bedroom before they started receiving calls and messages from people around Los Angeles for their services. Hood Renovationz is a small organization in Los Angeles, whose objective is to provide less fortunate families with desks for their kids for the new school year.
The desk itself is designed as a bookshelf on the wall, with the folding section in the middle that when pulled down becomes a desk similar to a Murphy bed (refer to picture). People from around Los Angeles have been donating mate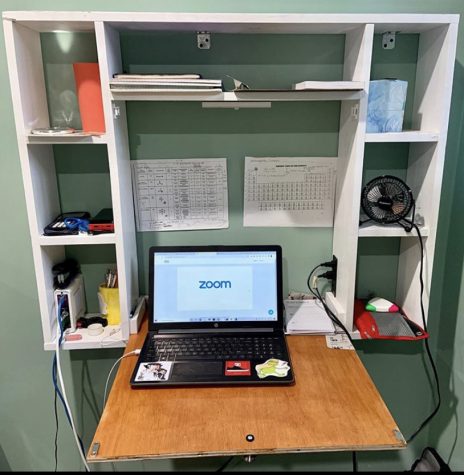 rials and tools, and if they cannot or do not have the materials Hood Renovationz has a Go-Fund-Me people can donate to. As of right now there, Go-Fund-Me has had over 240 donors and has reached 13k, their goal has been to raise 15k. They have also been selling shirts to support their future projects.
Hannah Ramirez, a Sophomore in 10th grade at Mt. SAC ECA says, "My opinion on the organization is that Hood Renovationz is doing something beneficial to the community." She says, "Not everyone can get a hold of a desk, from being sold out to not being able to afford one." From stores like Ikea to many other stores, have either been sold out or are too expensive.
Hood Renovationz even does giveaways on their Instagram page for their desks, which you are able to nominate someone or yourself to possibly win a desk.
Well, what inspired them to start this project of creating desks for students? "We grew up in small spaces all three of us, so we kinda looked at each other and said what would be the biggest impact" Daisy Figeroa of Hood Renovationz continues, "We concluded that it would be a good idea to create these small desks that would fit in small places, because of this pandemic would have hit if we were in high school/ middle school we would not have been able to have a space to study or go to class, in short, our upbringings inspired us to build these space-saving desks for students."
While Hood Renovationz isn't the only organization working towards providing desks for students. Chai Hansanuwat from Chino California is also building desks donating them to those in need, and since then has also recruited 12 more builders in his quest to bring desks to the students.
Leave a Comment
Donate to The Academy Chronicle
Your donation will support the student journalists of Mt. SAC Early College Academy. Your contribution will allow us to purchase equipment and cover our annual website hosting costs.
About the Contributor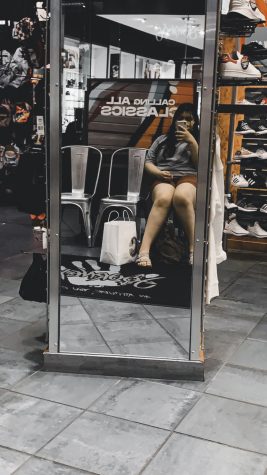 Abigail Vargas, Associate Editor of Print
Abigail Vargas is a Senior at Mt. SAC ECA and has been on the chronicle staff for four years. Abigail likes photography and has taken pictures for some...