Gloria Talks Podcast
Gloria Armador, a freshman student at MECA, has recently ventured into the captivating realm of podcasts alongside her friends. After some trial and error, Gloria formed a unique group that includes newcomer MECA students Mackenzie Diaz, Maddy Diaz, Jasmine Sampat, Liana Mayo, and Gracie Padilla. Gloria and her friends aim to entertain the audience and talk about a wide range of topics on their podcast.
BEGINNINGS
This creative endeavor began when Gloria had the initial thought of creating a school podcast. She explained, "Well, what I originally wanted to do was a school podcast, but I never got an answer back on being able to do it." After not getting an answer-back, she tackled the idea with her family members and further explained," "So I talked with my family and asked if I could do my podcast." After proposing the idea to many of her peers, she wounded up with the select group she has now.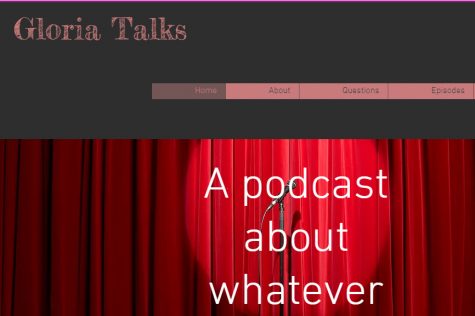 CURRENT PROGRESSION
Presently, there are some advantages and disadvantages of keeping up with the podcast. Gracie elucidated, "Some disadvantages I would say is that sometimes there is stress when it comes to creating an intro or remembering the right thing to say. It takes a lot of time to do those things." Maddy also noted that their Friday afternoon is put to waste recording. Everyone still agrees that the advantage of getting to know one another and building a community surpasses those disadvantages.
During their first recording session, everyone determined whether or not their personal expectations have been met. Mackenzie expected more of a school-based podcast, where everyone discusses MECA. "Really, it's just us talking about random stuff, but we're always staying on the topic somewhat," Mackenzie says.
Gracie began the podcast in hopes of improving her speech. "I'm not that articulated at the moment since there's only been 2 recordings of the podcast so far," Gracie acknowledges. She expects progress to be made after more recordings and practice.
Liana predicts her expectations will be met in the future. "I would be lying if I said [my expectations were fulfilled] because the only episode one has been posted, and I know the group has a long way to go before we could reach a point of satisfaction." She continues, "I also know this group has a lot of potential so to say my expectations are met would be far from the truth." Maddy expected nobody to ever be prepared and was pleasantly surprised with recent sessions.
FUTURE PLANS
Gloria Talks has already decided what the future should hold. "The future plan is that we would be in person and move from just audio to video. We also hope that we could do it weekly instead of bi-weekly. We are working on a better intro song and lyrics for it," Gloria herself noted. The group also plans on inviting special guests depending on future topics. "We are still deciding on who we would want," Gloria acknowledges. Their next topic is going to be about anime. If you would like a say on future subjects the podcast discusses, you can visit their website and go to the Questions tab.
If you're interested in listening to Gloria Talks, their podcast is now available on Spotify. Visit their website to see personal introductions suggest topics, and access all finished episodes.
https://2104721.wixsite.com/gloria-talks-podcast
Leave a Comment
Donate to The Academy Chronicle
Your donation will support the student journalists of Mt. SAC Early College Academy. Your contribution will allow us to purchase equipment and cover our annual website hosting costs.