MECA Quarantine Art
For the first time, a MECA Instagram page for fine arts has been established. Last month, Ms. Hoffman, the art teacher at Mt. SAC Early College Academy, repurposed her class Instagram to become an online showcase for art from students at the school.
Mt. SAC Early College Academy is quite thrilled to have an official Fine Arts Instagram! Ms. Hoffman wanted a way to display the most beautiful art all made by students and their creative minds during this time of fear and uncertainty. In the summer, Ms. Hoffman had an Instagram page to show her class's work called ArtWithMs.Hoffman but she changed the name to Mt. SAC ECA Fine Arts in order for other people to see and recognize the artistic talent coming from this school. Ms. Hoffman stated, "If I was going to be posting to an online platform – I wanted everyone to know the amazing work that my students create – and to get recognized with it!" When asked why she chose to change the name of the Instagram page, she said, "[I wanted to] mak[e] the page more 'official' and tied to our name so people recognize the school we are coming from." Despite this, some may wonder: is it all worth viewing when it is all online?

Although we can't see them for ourselves due to quarantine, every work of art looks good, and some may argue that it was a good idea to have an Instagram account dedicated to art at MECA. When students were asked if art is worth viewing online, ninth grade student Gabriela Jacobo states, "I believe that art is worth viewing online even though we can't view it in person since there are all forms of art. Art can come physically, like a painting, or it can be online, like with photography."
Others may also argue that viewing beautiful art is the best when it is viewed in person. Instead of looking at a photo, you get to experience the most out of something that brings people excitement, and if another method is needed, then it is best to just not see art at all. Another ninth-grade student named Matthew Tran states, "I think that art is worth viewing in person rather than online because art that is viewed in person, you can see the texture, color, and every element of hard work that went into making it. It is a unique feeling when you view art in person rather than online."
Regardless of one's thought of the decision, we can all agree that it is inevitable that it would come to this, and pandemic or not, MECA Fine Arts Instagram was made to just simply show our favorite pictures, paintings, and more. And also Instead of getting famous on social media, the goal for Ms. Hoffman is to just post appealing artwork that people have access to look at if they choose to.
As we look at MECA's art Instagram, we see the class pushing through hardship to be able to make good art and we see Ms. Hoffman cheering them all on. The most important thing to remember is that we should never be discouraged to not share what we like to do no matter the situation.
Leave a Comment
Donate to The Academy Chronicle
Your donation will support the student journalists of Mt. SAC Early College Academy. Your contribution will allow us to purchase equipment and cover our annual website hosting costs.
About the Contributor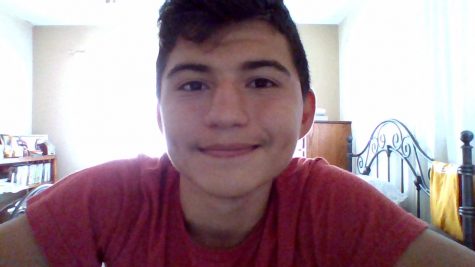 Joshua Araujo, Staff Writer
Joshua Araujo is in 9th grade and it is his first year on staff. Some of the things he enjoys are playing games with friends, getting exercise, and spending...