Ms. Sprague's Teacher Award
Give a round of applause to MECA's teacher of the year, Savannah Sprague!
Having been a teacher here at Mt. SAC ECA for three years now, teaching Math I-III, Data Science, Speech and Debate, and Senior Seminar, Savannah Sprague has been nominated and chosen for MECA's Teacher of the Year award, recognized by staff and faculty alike.
"Ms. Sprague is a super dedicated teacher, she works her butt off and I think she deserves to be recognized for that," says Courtney Bell, English teacher and Journalism advisor here at MECA.
Having contributed so much to the school from lending her classroom for staff meetings to staying after school to help tutor students and just being a great charismatic person to be around.
"I'm very excited, I was very surprised by it but I was very excited, very happy, and I'm very proud," says Sprague. Her charisma and love for the students and staff can clearly be seen through the lengths she goes to see her students succeed and learn.
From Pi Day to the Halloween Pumpkin Time-Bombs, Ms. Sprague takes her lessons above and beyond to help engage her students in order for them to have a further understanding of math concepts.
"My goal is to make math fun, and I want students to enjoy being in math, because they think it has such a negative tone," she explains. "People don't think they're good at math. That is something that I don't believe, I believe everyone is good at math and everyone can enjoy having fun."
Recently this year, she has taken on a new endeavor with the Speech and Debate team. "[It] has been such a new and big thing to take on… we are miles and miles away, Chicago, Boston, so I think that this is like a huge responsibility," she mentions.
Being in charge of student's safety and wellbeing 24/7, thousands of miles away is an immense commitment. Even though her main focus is teaching math, she still enjoys traveling with her students and getting to explore these different places.
"There was this one time where in the Chicago trip something happened with our plane" Victoria Ramos, a freshman, part of the Speech and Debate team mentions," she literally stayed up the whole night tryna get us back home."
Ms. Sprague is always looking for ways to improve as a teacher. Which is something Courtney Bell says is the, "thing that really separates her from other teachers for me, is that she is never content with herself, and her skill level," says Courtney Bell, an English teacher here at MECA.
Here at MECA, students are extremely grateful to have many great teachers as dedicated and as sweet as Pi like Savannah Sprague. "I work with so many lovely people, like I said it is hard to single out one person but, I'm super grateful to be recognized," she says.
Leave a Comment
Donate to The Academy Chronicle
Your donation will support the student journalists of Mt. SAC Early College Academy. Your contribution will allow us to purchase equipment and cover our annual website hosting costs.
About the Contributor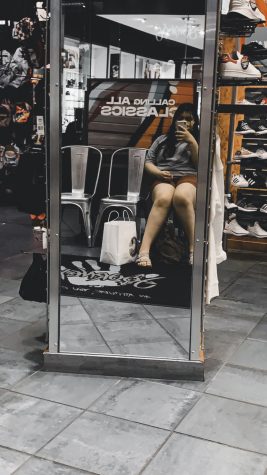 Abigail Vargas, Associate Editor of Print
Abigail Vargas is a Senior at Mt. SAC ECA and has been on the chronicle staff for four years. Abigail likes photography and has taken pictures for some...