Goodbye Friend: Cedric's Eulogy
On the morning of December 13th, the media center's beloved snake, Cedric, passed away. He was loved by and cherished by the students around the Mt. SAC ECA campus. An all too sudden passing that left an empty place in our hearts. 
No one word can describe him. Endearing. Admired. Amusing. Comforting. Long words that cannot quite wrap around him the way he would wrap about our necks and wrists. On our darkest days, ridden with anxiety and sorrow, he was there to warm our hearts. And in return. we would cuddle him close with affectionate eyes and melted smiles. We are honored to have spent the last semester with his company.
He arrived with Luna in the second semester of 2022, finals fast approaching. Two adorable visitors. There were some who immediately accepted and embraced his company. While others carried uneasiness and slowly, bravely faced their fears.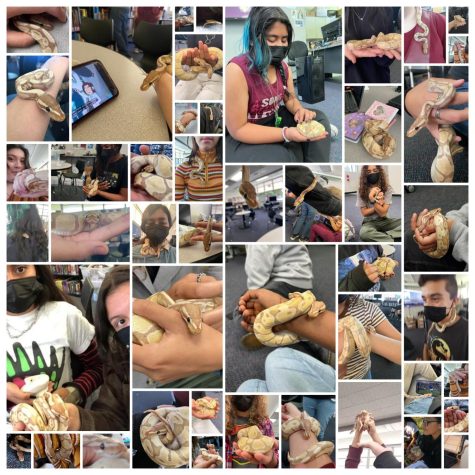 Cedric's father and media center administrator, Mr. Bobby Sanchez solemnly shares, "He was a good snake and got to come in to make you guys happy. He got to spread joy, and I'm gonna miss him. I know you guys are too."
Though every condolence playing in the heads of our students cannot fit on a single page, there is no doubt we all feel the same. "He was always kind of there to like relieve stress or…someone to take care of, a pet. He was just there. It was really nice," murmured junior Geo Lopez, one of the students closest to Cedric. When asked what they would say to him if they could, they simply replied, "that I miss him."
Mr. Sanchez continued, "Lindsay [his wife] and I were joking about how animals get their wings. And we talked about Cedric getting his dragon wings. Everett drew Cedric for me. Tell the students to make something if they feel sad and enjoy it. Share the memories because that's the fun part. It hurts right now, but it gets better."
If you wish to join us in celebrating his memory, the fifty-photo collage of photos collected from students will be presented in the media center for signage.