6 Reasons Why You Should Be Excited to Take MUS 15
MUS 15 also known as Music Appreciation or History of Popular Music is one of the many college courses that Mt SAC ECA offers to high school students. Though some may not be interested in marine biology or trigonometry, MUS 15 offers something for everyone to enjoy. It is by far one of the most-enjoyed college classes. And why is that? Well, there are a few key aspects of the class any underclassman should know before taking it.
1. It's a fun way to learn about history
Not all of history is names, dates, wars, and such. Everything in the world has a history- especially music. What better way to learn about it than by listening to and interpreting music? From the creation of rock to famous jazz artist, Louis Armstrong, history touches every aspect of what we listen to.
MUS 15 professor Randy Drake explains, "English, Math, you know the STEM work, the topic is something you always have to take, right? You don't necessarily have to learn about music. So I think that makes a difference: the topic of music. Because everybody loves music!"
Musicians instead of presidents. Compositions instead of constitutions. Instruments of sound instead of instruments of war. A unique spin (or swing!) on our history makes it so much more exciting to learn about.
2. There's something for everyone
Let's face it, practically everybody likes music. As supported by the writings of certified music therapist Kimberly Serena Moore, when we listen to music, the rhythm syncs up with our brains, our heartbeat, and our motor system which is what makes it so pleasing to listen to. It taps into our emotions and our hearts and provides us with a safe space. Not to mention it's just fun!
Everyone has a different music taste. Country, kpop, rock, rhythm and blues, etc. And MUS 15 doesn't just touch on one genre. It covers practically every single one, its fascinating history, and its impact.
By far, many students have most enjoyed the British Invasion unit. Sophomore, Kristabella Rodriguez, currently taking the class, recounts, "My favorite lesson would probably be learning about the Beatles because they are a really cool band and they have a lot of interesting things about them I feel, I wouldn't know without that lesson."
You won't necessarily be drawn in by every topic covered, but there will still be at least one that you will be interested in.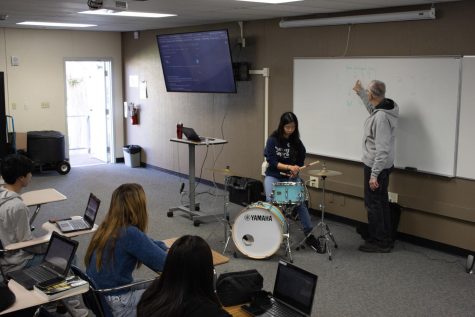 3. You can personalize your assignments
Though most classes teach with a rigid order of topics, many assignments in MUS 15 have an almost choose-your-own-adventure structure to them. At-home reading usually allows you to choose between sections with the same overarching genre to then write about. For example, if you're learning about rock, you could perhaps select between psychedelic rock and women in rock.
There are also two big writing assignments. The first covers a specific genre, and students can choose to write about a certain aspect that interests them most in that genre. The second substantial assignment at the end of the year, the final paper, is one the most anticipated in which the students can write about practically any aspect of music as long as there's something to talk about. And, though writing isn't the most exciting activity to every student, it at least adds some level of creativity and interest to it.
4. The professor is absolutely outstanding
It's genuinely challenging to find one mere word to describe professor Randy Drake, but outstanding does an adequate job.
Not only is he just a pleasant and fun person, but he is also a phenomenal teacher. He understands the amount of stress Dual Enrollment students are put under and is more than willing to accommodate in a way where they are still able to learn the material. He's also a jazz drummer with a passion for music that really shines through in his teachings. A rhythm of education that perfectly matches the tune of the class.
"He's more laid back, but like really interested in his topic," explains sophomore and current MUS 15 student Adela Angulo with a warm smile, "Which is fun to watch because some teachers, you can see when they're not interested in what they're teaching. But he's definitely interested in his topic so it's interesting learning from him. Because he has all this knowledge, and he plays music himself."
Out of every college professor teaching at MECA, for many students, he's been their favorite. He always manages to make coming to class something to be delighted about.
5. The group activities always spice up the class
Admittedly reading, writing, and lectures can only be so riveting. Though that's often what makes up your average college class, Professor Randy always sprinkles in engaging activities from the simplest action of clapping to the beats of a country song to understand its structure to rating cheesy 80's music videos.
By far, the most interesting activity during the course is when students write Tin Pan Alley (a genre popular in the early 1900s) lyrics. "Students write lyrics!" professor Randy Drake avidly explains, "It's kinda fun because they've never done it before. And I also make rules about how to do it. They're not writing Billie Eilish lyrics!" And, despite the stress of public poetry, it always makes students erupt into laughter at their own work.
6. There's little to no stress when taking it
Don't think that MUS 15 isn't an "easy A." No college course is like that. You will still have to put in the work to pass. Reading homework is necessary to learn the material, but it only takes a fraction of your weekend free time. It will never be a substantial burden due to the leniency on extensions and late work (as long as you don't abuse the system). And, as long as you shift your mindset and tune into the world of music, it tends to fly right by.
Taking college classes in high school can be a definite challenge, but MUS 15 is a good way to ease into it. It's very good to take at the start of the year as your very first introduction to college classes, but it's equally ideal to take at the end of the year when finals add extra stress.
From current students interviewed, it's been rated an 8/10 or higher. Though the prospect of school doesn't quite make anyone jump for joy, Mt. SAC's History of Popular Music course is, compared to the others offered to MECA high school students, an entertaining and low-stress class that's more than worth the credits it offers.
Leave a Comment
Donate to The Academy Chronicle
Your donation will support the student journalists of Mt. SAC Early College Academy. Your contribution will allow us to purchase equipment and cover our annual website hosting costs.
About the Contributor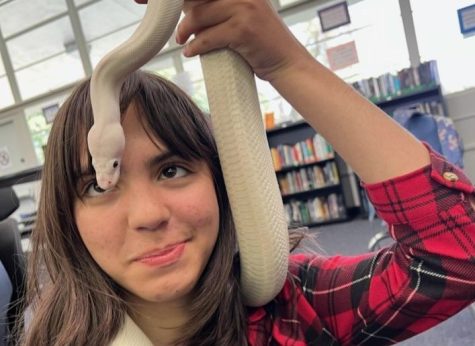 Mackenzie Diaz, Staff Writer
Mackenzie Diaz, an outgoing junior who is in her second year in journalism. She is very lively and participates in many clubs, some including the film...