The "Official" MECA Club Catalog
School clubs have so much to offer to students. Some serve their community, others expand our knowledge and skills, while some are just created to have fun. No school year is complete without extracurriculars, especially when our school has such a wide variety of them. 
Perhaps you missed Club Rush or were too busy running a booth to check out every exciting extracurricular Mt. SAC Early College Academy (MECA) has to offer. Whatever the reason, we have a very exciting lineup this year of clubs both new and old, and hopefully, you find one that makes your week a little more fun!
Academic Decathlon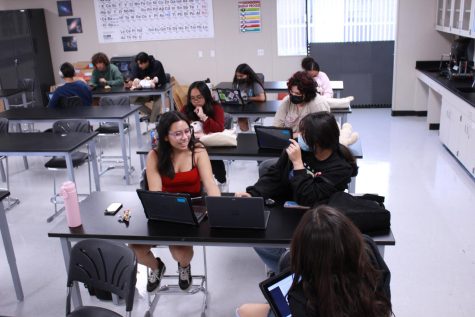 Every Monday, Tuesday, and Thursday, academically gifted students will work together to test their knowledge for the Academic Decathlon. Participants will study several different subjects including Social Science, Mathematics, Art, and Science and compete against other high schools for a chance to qualify for the state competition. 
Advisor/president and science teacher Mr. Janadi says, "[Academic Decathlon's] purpose is to help students become well rounded in studying many different subjects, and how they all relate to each other."
This year's theme is the American Revolution so every activity is themed to match this topic. They accept students of a wide range of GPAs- not just straight As. For more information, contact Mr. Janadi.
Baking Club
Each first and third Monday of the month in English teacher Ms. Berrong's room, students will come together and discuss an interesting new recipe that the whole club will be making. And on another day outside of school hours, they meet over video call and bake that recipe together.
"It's fun when you're baking with other people," President and senior Dyanna Gracia explains, "so I think that's something I wanted to share with everybody"
 Any creative baker will find this club to be a welcoming community where you're free to experiment and have fun. There's no doubt it will be a sweet time!
Book Club
Held by English teacher Ms. Pedroarias, Book Club has something for fans of all literature. Every Thursday during lunch, members will come together to share their thoughts, opinions, and recommendations on books they read. This club creates a space for any interested student from book nerds to those who merely are interested in getting into reading. 
Though the club is just starting up, president and freshman Tara Phapornchai is planning a reading competition in which the member who reads the most pages in a certain window of time will win a prize. It's clear this club has pages upon pages of excitement in store.
Comic and Illustration Club
For artists of every medium, the Comic and Illustration Club aims to further develop the skills of aspiring artists. Members meet every Thursday at lunch with Ms. Hoffman in Room 2 for tips and advice about different aspects of art. 
"We have lessons and quotes planned," explained club president and talented junior artist, Cai Leung, "And we project those and a bunch of information that we found on the certain topic. And we change topics every week"
Anyone, no matter their skill level, is welcome to attend, expand their knowledge, and add a little extra color to their day.
Clash Club
Rather than meeting in person, this is a club that takes place almost entirely online. They mainly play the video game Clash Royale, from developer Supercell, joining a clan and working together to develop strategies to best the other clans. One of the main parts of their club activities is Clan War where members go against the other clans for rewards. And, on occasion, members play co-op with each other.
Club member and junior Trent Taylor explains, "They do play other Supercell [games] like Clash of Clans and Boom Beach."
To join this club, contact Mr. Janadi or club president Nicolas Galicia.
Craft Club
Any arts and crafts hobbyist will enjoy this club. They meet on the second and fourth Wednesdays of the month in art teacher Mr. Barriga's room. Each meeting showcases a new craft which the club executive board goes around and teaches to members one on one. The rest of the club duration is spent creating it.
"Our main purpose is to teach people how to do different crafts, and they get to pick their craft," explains president and junior Julia Hernandez, "And the other is to give people space to do crafts. So if they know a craft, they can do that."
Cubs Club
The motto of this club is simple: "We Serve". In Ms. Wilcox's room, every other Monday at lunch, the Cubs Club works with Lion Club International to do just that. Members of the club volunteer, work, and raise money to better the community of West Covina. 
In the words of club president and junior Angelina Martinez, "Depending on the activities planned out by the Lions Club, we will work with them and volunteer, that either being a weekday or a weekend." 
It's one of the multiple clubs that provide a much-needed service to our community- yet the first school to ever be in liaison with the West Covina Lions Club. 
D&D Club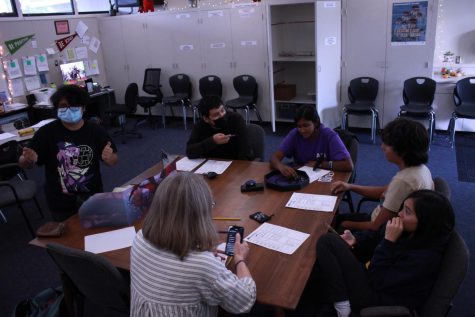 Adventure takes place in the imagination, and the Dungeons and Dragons Club strives to bring your imagination to life in the form of epic escapades and quests. During meetings, members create characters to fight battles, develop relationships, and explore the excitement of fantasy tabletop roleplay. To accommodate busy schedules, they meet on different days depending on the campaign (game group) that members decide to join. And there's a group for any type of player from bright-eyed newbie, to chaotic casual, to serious warrior. Email club president and junior Liana Mayo to join the adventure.
Fashion Club
Though this new club is still trying to figure itself out, Fashion Club has a loose yet persistent goal of developing the unique fashion styles of its members and sharing a love for fashion. Most recently, they've been learning about different fashion trends throughout the eras.
The most important goal of this club is to spread body positivity and self-confidence. Everyone should feel comfortable in their own body and express themselves through how they dress despite gender and societal norms. They meet every first and third Tuesday at lunch in Ms. Guevara's room.
Film Club
MECA's Film Club exercises acting in front of the camera. During meetings, they create original and creative short films. From the screenwriting to the acting to the editing, everything is created by the members.
 President of the club and junior Vanessa Ramos explains, "We wanted to make this club, not like a class, but a fun area where people could feel free to make mistakes, learn about film." 
Currently, they are brainstorming their newest film projects, so that they're strong and smooth enough to begin the writing process. Their meetings are on Mondays at lunch in room 10.  
Gardening/Horticulture Club
Perhaps you have noticed the flourishing greenery next to Ms. Hoffman's room. That garden belongs to this club whose purpose is to maintain these plants through planting, watering, composting, and other works to tend to it.
"I think there's like a sustainability mind track to it," says club advisor and art teacher Ms. Hoffman, "Because we're composting and recycling what we've eaten and what can be composted and turning it into nutrients for the soil."
In the past, they've grown "massive sunflowers," tomatoes, pumpkins, squashes, and more. And soon, they'll be replacing them with winter plants like lettuce. They meet every other Thursday at lunch in Ms. Hoffman's room
Gender Sexuality Alliance (GSA)
With a message of education and equality, the GSA works to create a safe space for all members of the LGBTQ+ community. During meetings, they choose a topic to present- something many don't know about, something of recent significance, and/or some tips or recommendations concerning all aspects of the spectrum. Their most prominent actions around the school are their decoration of the school on Coming Out Day and their merch and flag giveaways during Club Rush and Fall Fest. Meetings are every other Thursday at lunch in Ms. Berrong's room.
Helping Hand House
Every first and third Thursday of the month, students meet in English teacher, Ms. Guevara's room for this service club. What makes this club different from the rest is its focus on the homeless community of West Covina and helping them live better lives through fundraisers and other events.
Advisor Ms. Guevara explained, "Last week we did hygiene kits which included like a towel…soap…conditioner, shampoo, toothbrush, toothpaste."
In the future, they also plan to work with Ms. Gutierez who teaches at Mt. SAC and works in the WCUSD Foster and Homeless Youth Center who has a number of events planned.
Interact Club
This service club meets every other Tuesday at lunch in room 17. Rather than merely organizing group events (planning at least two this year), they also take a more independent approach to their services. During meetings, they plan projects and share other ways to help our community.
Gaby Jacobo, president of the club explains, "Outside of meetings…members can volunteer for one or two of the volunteer choices we give them access to in order to get volunteer hours."
For those with busy schedules and an interest in volunteer work, this club is the best option.
Junior State of America (JSA)
The JSA (not to be confused with GSA) or Junior State of America is a club dedicated to discussing people's opinions whether they're casual or political in a respectful manner. They have no affiliation with any political organization and encourage others to build their own opinions based on credible information. During meetings, they have "thought talks" on a variety of topics as well as debates. In the future, they plan to have guest speakers, and even go to an online conference to debate with other JSA clubs. Meetings are on Wednesdays at lunch in Ms. Wilcox's History room.
Key Club
Meeting every other Monday at lunch in Mr. Cordero's Spanish room, this service club specializes in providing volunteer events to participate in. Every meeting, these different and unique opportunities are announced. Members will sign up for them and will attend them outside of meetings. Club president and junior Haylei Liev mentioned that they range anywhere from small spirit events to providing assistance for local markets.
Though the main purpose of this club is to help out the community, it also supplies members with service hours, improves college resumes, and opens up scholarship opportunities. 
Kindness Club
This service club meets every other Friday at lunch in Mr. Cordero's room and hones in on helping the people around us, be they students or staff, through little acts of kindness. Their main goal is to make everyone's days a little better.
"We also…write messages- positive messages for our members, for our teachers, other students," explained Mr. Cordero outside of his classroom. 
Outside of that, they also do community service, on-campus fundraising, and even field trips to help around the city. Because everyone deserves to have a smile on their face!
King of the Court
For any student who spends their free period or lunch at the basketball courts, this club brings together players of any experience level to battle for the title of "King of the Court".  They meet every third Friday of every month in Mr. Cordero's room, but, of course, spend most of the club duration outside and playing basketball.
Club member and freshman Mohammed attended their first meeting and relayed, "We just talked about how…we're gonna structure the teams and what type of tournaments we're gonna make."
And despite its competitive feel, it still provides a friendly environment for members to share their love of the sport.
Mu Alpha Theta
Mu Alpha Theta is a nationally recognized honors mathematics society. Not only does it look good on college applications, but it also adds a level of fun and excitement to learning about math. Some activities include the Pi Day celebration, math trivia, tutoring, and learning about different mathematicians.
Advisor and math teacher Ms. Sprauge said it best, gushing, "[Mu Alpha Theta is] for students that are kind of interested in like having more math in their day-to-day student lives and…they don't have to necessarily pursue a math education"
Meetings are every Wednesday at lunch in Ms. Sprauge's room and students are accepted based on their math GPA.
National Honor Society (NHS)
Much like Mu Alpha Theta, NHS is a nationally recognized organization. Members of this club are high academic achievers with big goals in mind. There are four pillars of NHS: Scholarship, Service, Leadership, and Character. Not only do members have to keep a GPA of 3.5 or higher and apply with a letter of recommendation, but they also have to complete a number of volunteer hours by the end of the school year.
Though much work goes into this club, membership looks exceptional on a college application and even provides financial aid planning resources and scholarships. They meet every second Tuesday of every month in Mr. Nichols's History room.
Paw Patrol
While many of our service clubs help people, this club's goal is focused on animals. Every first and third Tuesday of every month in the media center, they often spend their time discussing outside activities to achieve this goal. Though they haven't had the chance to do too much with COVID, they plan to be much more involved this year.
Club advisor and English teacher, Ms. Bell described their club activities, saying, "So like going to shelters, raising money for…pet drives, giving the word out about adoptions"
She finishes off with, "If you love animals, this is the right place for you"
Pokémon Go Club
Big fan of Pokémon? Try to catch'em all every Thursday during lunch at room 6 with Mr. Barriga! During meetings, they play the game, talk about it, and share their accomplishments with fellow members.
"Outside meetings, we usually hang out during lunch in Mr. Barriga's classroom…" explained president and freshman Jeremy Jenkins, "Or we play Pokémon Go and walk around for a while around the campus with Mr. Barriga (since he plays too)."
However, this game is also for general fans of Pokémon. Recently, Jenkins has been branching out to other Pokémon video games as well as the card game. Any Pokémon geek is sure to find a home in this club.
Quill and Scroll Honor Society
As the newest addition to the MECA media team, the Quill and Scroll Honor Society is a club for writers with at least two years of experience in the team to collaborate with other experienced journalists to inspire each other.
Club president, Liana Mayo describes the meetings explaining, "We usually discuss plans for the year including in journalism and yearbook. So, typical things that would not be discussed in class, we discuss them there as well as techniques or things that we can possibly teach kids."
The E-Board is also planning a few exciting events for the members. Meetings are Mondays at lunch in Ms. Bell's room.
Running Club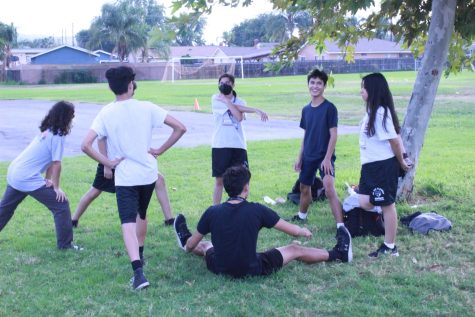 Though Mt. SAC ECA doesn't offer any sports, Running Club offers much-needed exercise to students every Tuesday in Ms. Yao's PE room. Each week, the club runs around or outside of the school, steadily progressing in length to push the members toward physical fitness. 
President and freshman Matthew Diaz discusses, "So during the meetings, we'll stretch, and we'll go on a run. Our first run was a mile around the school, and our second run…we'll be running to the park and back.
For anyone excited about running – or merely just looking to exercise more – Running Club excels in creating a community of active and fit Timberwolves.
Timberwolves Changing Stigma (TCS)
Every first Wednesday of the month at lunch, members meet in Mrs. Contreras's room and learn more about mental health. 
Club advisor and counselor Ms. Contreras illustrates, "The purpose of TCS is to provide mental health awareness and to put out the stigma of mental health, so promoting inclusivity, kindness- just a safe space for students.
After checking in with the members, a topic of the month will be presented. And outside meetings, there are many posted resources as well as events such as mental health festivals. E-Board members even attend a mental wellness summit and occasionally official state meetings.
Tea Culture Club
For all you tea-loving ladies and gentlemen, the Tea Culture Club is a social club meeting in Mr. Nichols's room every second and fourth Friday during lunch. For the duration of their meetings, members drink new blends of tea, snack on pastries, listen to records, and talk with their friends. Catering is a collective effort of the club, but it's never mandatory. Members can either merely stop by for a refreshing treat or stay for the entire duration of the club. To put it simply: it's just a fun bi-monthly tea party!
Scholarship Club
College is expensive, and financial aid can be found anywhere. People just don't know the right places to look. The Scholarship Club meets in Ms. Berrong's room every first and third Friday during lunch. This club is to help members find and work on scholarships to aid them when they finally graduate and attend college.
"There's some people who unfortunately don't have enough money to go to school," elaborates club member and sophomore Lizbeth Huerta, "So that's why we started this club."
Even as one of the new clubs this year, it's making fast progress in its college-bound goals.
UNICEF Club
Meeting every second Wednesday of the month during lunch in Ms. Banh's room, UNICEF (aka the United Nations International Children's Emergency Fund) is a service club (and organization) that strives to teach our student body about providing aid for children in burdensome situations. 
According to club president Lauren Diep, meetings encompass "discussing current events and service opportunities to aid our community." And as a service club, there are also many volunteer events to participate in outside of club meetings
UNICEF is directly connected to its parent organization and actively works with them to help children worldwide. Joining this club will allow you to do the same and positively impact our community.
(For more information on joining these clubs, you can check out the Club Directory.)