An Overview of DKB's Tour
Rising K-Pop group DKB (다크비) left BBs speechless after their U.S. Tour. And with their charisma and outstanding performances, leaving the K-Pop community to wonder, who are they? And where have they been all this time?
Who is DKB?
DKB is a nine-member boy group under Brave Entertainment. The group comprises Teo, GK, Heechan, Lune, Junseo, Yuku, and Harry June, with leaders E-Chan and D1. Since their debut in February 2020, the group has won awards like the "Next Artist Award" at the Soribada Awards and the "Focus Singer Award" at the Asia Artist Awards (AAA).
The group has been recognized by some of the most prominent figures in fourth-generation K-Pop. Bang Chan from Stray Kids played DKB's newest release, Sober, on Chan's room episode 160. Bang Chan complimented their work, which attracted new fans.
News outlets like KoreaBoo and Allkpop often refer to DKB as one of the most promising K-Pop groups of this generation. 
"Starting with the fact that they sometimes choreograph their own routines and compose their own songs, they're sound feels natural because it's THEM," expressed @euphoriccshay or Shay on Twitter." No matter how much criticism they've received from netizens for not 'fitting the beauty standard', 'not having a typical 4th gen sound' and even the criticism they receive about their styling, they still put their all into their work and it SHOWS! That's what makes DKB different. They built themselves up from the ground to get to where they are and they deserve all the success they receive!"
Over two years after their debut, DKB announced their first-ever U.S. Tour. This surprised fans as the group was preparing for a comeback. But also left BBs wondering how DKB would still be able to perform and travel with the coronavirus still being prominent in many cities. 
The Lead up to the Concerts
BBs were excited to see the group embark on their tour. And they were eager to create memories that would last a lifetime. 
For VVIP ticket holders, they were able to experience a fansign. A fansign is an event where fans can get up close and personal with their idols. Each fan gets around 1 minute with each member while the idol signs their album or poster. Fans meeting the members during fan engagement went out of their way to purchase gifts. Some fans like Ariana Mariano bought stuffed animals and t-shirts for the members. Others like Kyra, or hwaffless on Twitter, made hand-written letters and made bracelets for the members.
And due to the recent heat wave coming across the U.S., Pia, or @bbnfia on Twitter, passed out water and snacks to BBs waiting near the venue. She also brought some official photocards and album poster inclusions to give to her BB friends. 
You often see fans passing out banners with different designs at concerts. This is a way of fans showing support for the artist without using a lightstick. And since there is no official lightstick out for DKB, Adri, or @lunesfav on Twitter, was one of a few fans to plan a banner project. She asked that fans who had her banner would hold it up during "Bestie" for the members since the song holds much meaning for both BBs and DKB. "Seeing some BB's hold them up during BESTIE was probably one of the highlights of my day! When DKB came out with my banners I just remember full-on sobbing and having to sit down because I just felt so in disbelief. I did it for them, and seeing them just admire the banner was the best thing."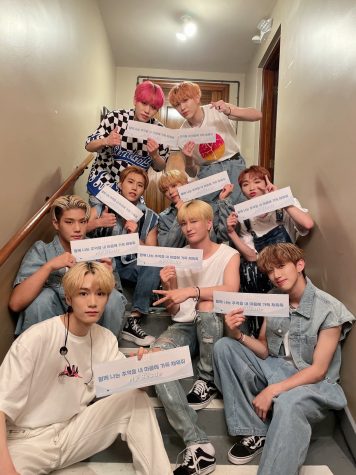 The Concert and Fan Engagement 
BBs were excited and pumped up for the concert, to say the least. Adri, who went to several shows, noted much energy throughout the concert experience: " The second you walked into the venue everyone would be singing or even dancing… There was never a dull or boring moment during the concert, even when the members would just be talking it would be so much fun!!"
Their tracklist consisted of hit songs like "Sober," "Samsung," and "Work Hard" the members also performed their cover of "First Class" but also performed "DKB United," which was created through their reality show by the same name. 
When transitioning from one performance to the next, DKB took time to interact with BBs and show off their charms. One of the charms showcased was the member's freestyle skills. "For one, they said they prepared it specifically for our tour date (which I think should've been talked about more) and even though all the members didn't dance," said Shay. "You can feel how the other members contributed, for example when e-chan came out to hype up the crowd. I love that they explored different dance styles and showcased that in Atlanta."
The one thing that sets DKB and BBs apart from other groups and fandoms is their close bond. "The boys were all so welcoming and it felt more like seeing your bestfriends after a long time away rather than an idol x fan relationship," said Pia. "Fan service was not forced, it was very sincere. Every member made sure you felt heard, loved, and appreciated." 
And many fans agree with Pia, "The boys are really sweet and look at you with so much love," stated Ariana. "They're also very smiley and bubbly. The boys were so open to completing their fan's hearts during the group photo and during the hi-touch, some members would clown the fans or do small dances with them!!" 
Before the encore at the LA concert, the members took time with BBs to reflect on the member's journeys to debut. 
"The boys got really emotional during their speeches, and because they got emotional all of the BB got emotional and it was just a very specific vibe," wrote Monday or HeeChansFriday on Twitter. "It felt really really intimate and special with what they were sharing with us. After seeing the boys for so many cities on tour, it just felt incredibly special to share that moment and be there for the final stop and hear their thoughts in that setting."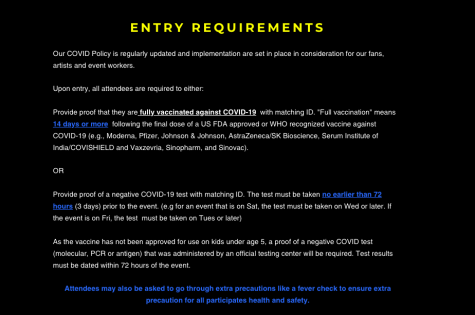 COVID
The Coronavirus pandemic has hit the K-Pop community hard. 
Shows like Music Bank, Inkigayo, Show! Music Core, M Countdown, Show Champion, and The Show have restricted the number of people allowed in their buildings. As of May 2022, Music Bank, Inkigayo, and Show! Music Core allows a live audience to be a part of the show. 
When artists started touring overseas, many had to cancel concert days due to the members or staff members contracting the virus. Artists like The Boyz, Stray Kids, and Golden Child have fallen victim to the virus. 
Many fans urged other fans to wear masks, be fully vaccinated, and not attend the concert if they showed symptoms. Due to specific state mask policies, companies like Studio PAV, the company working alongside DKB for the tour, wrote in their COVID policy that masks are highly recommended. 
Yet BBs urged others to wear masks but still did not wear their masks during one-on-one fan engagements. When fans posted photos of themselves with the members without a mask, many fans, including Monday, were left speechless. "We don't know the boys health status… I don't see why people are willing to risk it for a photo."
Kyra also commented, "When I saw how other BBs weren't wearing masks at the concert it made me feel very worried for the members and in fear the other stops may get postponed. We have many interactions with the members including physical contact so I think it's very important we follow that regulations. Not to mention the other BBs and their families that you're potentially putting at risk."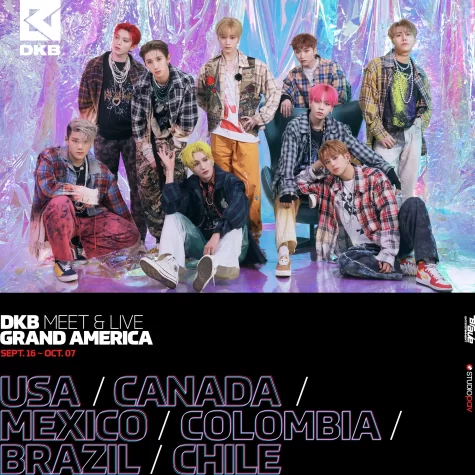 Other News
At the LA concert, Studio PAV's tour manager told fans that the concert would be recorded for YouTube. The show will be split into three parts; all there parts are posted on KpopLiveTV.
DKB also announced that they will again go on tour, but this time they'll be visiting Canada, Mexico, Colombia, Brazil, Chile, and the U.S.
More information will be released by Studio PAV soon.