How to Have a Flowery Spring Break
50% of people have something to do over spring break. Which side are you on? If you have nothing to do, why not try something new? Pick a good one out of the ten things to do over the ten days of Spring Break.
Go Flower-Sightseeing
It's spring! It's sunny, the birds are chirping, the weather is lovely! There's almost no reason to not go outside. There's some great flower fields in the area, so go get those pictures and social media likes. Try The Flower Fields in Carlsbad, California. Even if you can't view the flowers, grow your own! Or just pick the flowers that you see on campus- those dandelions are very pretty. 
Experience Art 
Appreciate the art that others have made. Visit the Van Gogh Exhibit in Los Angeles. It's gotten more and more heard of nowadays. If you're not able to visit the museum, visit and learn about Van Gogh from the comfort of your own home with the online exhibit. Or you can even watch Loving Vincent and experience the enrapturing art work of countless artists through a 90-minute film.
Get a Hobby!
You've definitely heard this way too many times. But c'mon, it's true. It doesn't matter how many hobbies you already have. One more isn't gonna hurt you. Drawing? Reading? Binge watching shows? There's a whole world of hobbies out there just for you. You gotta be able to find at least one.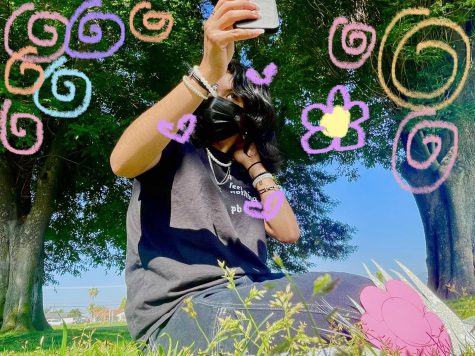 Have a Picnic
Have your main character moment where you are sitting on your picnic blanket, eating a sandwich, and watching as the wind blows through your hair. Or if you're fasting, paint your beautiful surroundings to show off your amazing skills and talents. There are numerous parks in the area and you're bound to like at least one of them.
Go to an Amusement/Theme Park
Pull a Ms. Bell and go to Disneyland everyday! But Disneyland isn't the only place to be. There's Knotts' Berry Farm, Universal Studios, Six Flags; these are not the only popular attractions. Make sure to stay safe, though! And always remember to have fun!
Check out some Books
Support your local second-hand book stores and small businesses. Try Century Books in Pasadena, CA. If you're not able to buy books, try making a library card to check some out.
Head to the Mall
Go shopping and walk around. Not only do you get your daily dose of exercise, but you also get some cute clothes and more to take home! Much better than online shopping where you just sit around and browse without even knowing if the shirt is comfortable.
Enjoy the Beach
Get that tan! Pretend it's the 2010's when they still did that! Make sure to put on sunscreen though so you don't get burnt and to protect you from skin cancer. Get in the salty ocean water, but DO NOT swallow it. It's dirty fish poop water.
Go out for a Swim
Don't let the heat get to you. Swim to refresh your sanity. Get your donut floaty and dive right in the water. You can even play mermaids with your friends!
Cut your Hair
Nothing like getting that fresh haircut you've always wanted. Get it bold, get it expressive, get it you! Go to your favorite barber (or any barber will work) and ask them exactly how you want it. Not how someone else wants it. But don't cut your bangs by yourself. Don't bring that back.
So if you have nothing to do over the break, might as well at least try one of these ideas. Out of the ten things to do for the ten days of Spring Break, you're bound to at least like one of these. So go ahead and have fun over your flowery spring break!