Stranger Things Makes a Comeback
"Stranger Things," the hit Netflix show, is just about to get more popular. "Stranger Things" started in 2016 and is currently standing with three released seasons. The show  became a huge deal in the media, and "Stranger Things" began gaining major popularity after the third season in 2019.
On February 17, 2022, Stranger Things TV officially announced the date of the fourth season's release date. 
The upcoming series is going to be aired in two volumes; the first volume being aired on May 27th and the second being aired on July 1st.
But what is "Stranger Things"? "Stranger Things" is a Netflix drama and supernatural series about a group of kids trying to find out what happened to their friend, Will, who disappeared mysteriously. Throughout the series this small town uncovers the secrets behind government labs, portals, and monsters unheard of. 
"Stranger Things" became so big, Baskin Robbins, the ice cream chain, had five different flavors based on the show in June 2019. They also had collectable containers to take home. Scoops Ahoy, the famous ice cream parlor that was featured in the show also paired up with BR, having their own Stranger Things themed pop up ice cream flavors as well.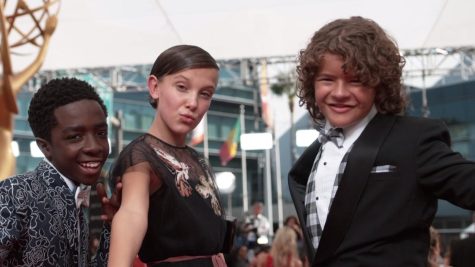 Not only have ice cream shops profited from Stranger Things' popularity, the main cast has also benefited greatly because of this series. Though some of the actors were already well known throughout the media, Stranger Things has allowed  them to flourish. Finn Wolfhard, Millie Bobby Brown, Noah Schnapp and many more names have become known to the Stranger Things fandom.
On Twitter, new cast members have also been welcomed on set; Amybeth McNulty as Vickie, a band nerd, Grace Van Dien as Chrissy, the 'perfect' lead cheerleader, Regina Ting Chen as Ms. Kelly, the guidance counselor, and Myles Truitt as Patrick, a basketball star. How will they fall into the plot? Only time will tell.
Fans have spread the news across the media fast; considering the three years of absence, this has become a big deal to fellow enthusiasts.