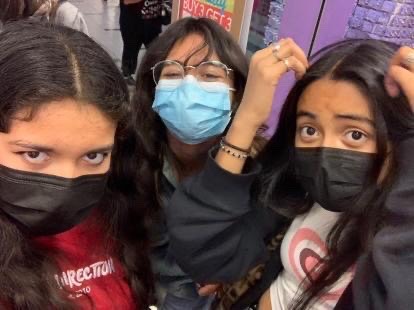 Image by Karen Sanchez
Freshman Friday | Audrey Spencer
Audrey Spencer. Sarcastic, thoughtful, and outgoing. She's one of the freshmen that received  an  Academic Awards pin with her perfect 4.0 GPA. Not only is she able to uphold her school life, she also has a talent for the musical arts. By taking lessons online, she learned to  play the electric guitar and the ukulele.
She plays not only instruments, but also has a knack for listening to music as well. With a love for the rock genre, she's been into Pavement, The Velvet Underground, and many more.
She even divulges into the literature arts, her favorite books being 1984 and Slaughterhouse-Five to list a few. She can always be caught reading more than one book at a time. 
"I'm honestly lazy and forget I'm reading like ten books right now," says Spencer. 
Though she has achieved so much in her life, Audrey's number one accomplishment is the friendships she's made. Her friends view their friendship the same way she does: as something valuable.
"She is a great friend, and she's very kind," says Karen Sanchez, a friend of Audrey and a Mt. SAC ECA freshman.
Her best moments with Audrey are whenever she says the most random and most hilarious things over the phone, never failing to make Karen laugh. For her, just talking to Audrey about anything and everything makes her day.
"I'm very glad I met Audrey," says Sanchez, "[and everyone] should get to know her because she is truly a great person." 
According to Alonzo Galindo, Audrey's partner and fellow freshman, it doesn't take long to like her. His first impression of her was that she's extremely outgoing, can speak for herself, and is exceptionally intelligent.
"When hanging out with Audrey," says Galindo, "You really have no clue what you are getting into but you know you are going to have fun." 
Her social life, needless to say, is going flawlessly. At home, she lives with her mother, brother, cats, and dogs, and visits  her father on the weekends. In her free time, she draws and has been getting back into reading.
She also collects CD's and is very passionate about her love for her collection. 
"Okay so! I've always collected records," she goes on. "But [lately I] started collecting CD's. They're so much better than records, more convenient, cheaper, and they sound nicer." 
Her favorite CD would be The Velvet Underground or her Juno movie soundtrack.
"Audrey [is kind], she will always be there to help you, she cares for others," says Galindo.
Overall, Audrey has strived in life. She has hobbies, she's made time for friends, she always makes people smile, and has grades that are above and beyond. There isn't a thing Audrey can't do.
Donate to The Academy Chronicle