ATEEZ is Coming!
K-pop group ATEEZ has their fans (Atinys) more than excited for their tour titled "The Fellowship: Beginning of the End." Starting with Seoul on January 7th, the group will be traveling to many different locations across the globe, ranging from Korea, to the United States, to Europe. For those who plan on attending, knowing the right policies and precautions is very important.
During the Los Angeles dates, ATEEZ will be performing at The Forum, which happens to have many COVID-19 regulations in place. Attendees must be aware of these precautions.
Similar to the "BTS: Permission to Dance on Stage" tour, all attendees must either show proof of a negative COVID test taken within 48 hours prior to the event or a vaccination card. Vaccination cards are only eligible if the final dose was taken 2 weeks prior to the event. 
Masks must be worn at all times during the event unless eating or drinking. Fans under 2 years of age are not required to show proof of a negative test. All fans 18 and older must provide proof of a photo ID to match the negative test or vaccination card.
Clear bag policies do apply to the ATEEZ concert. The Forum encourages guests to travel light for a safer experience. 
The clear bag policy states that clear bags must be equal to or smaller than 12" x 6" x 12". Plastic freezer bags, small clutches and wristlets, and diaper and medical bags apply (size details on website).
Every bag is subject to searching. Bag policies may also change based on show location. 
Merch is a huge part of many different artists' tours, and ATEEZ is no exception. ATEEZ will be selling their official light stick, a "lightiny strap", photo slogans, metal badges, photo sets, mini poster sets, projection keyrings, hoodies, t-shirts, mini bags, reversible pouches, bucket hats, and blankets. 
Pictures of the merchandise can be found on ATEEZ's instagram.
The merchandise is displayed in Korean currency, so here is a currency converter to get the prices in US dollars.
The Forum holds about 17,500 people, and with that comes prohibited items, which are: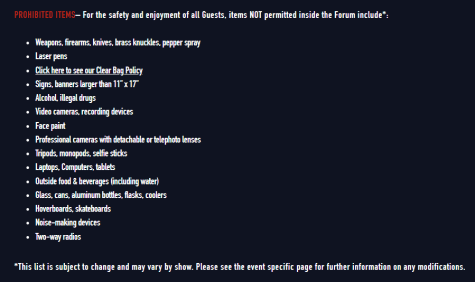 The Forum is a completely cashless facility, meaning they only accept payments through card. This includes food and drinks as well.
On-site parking will be available at The Forum as well. Cash and major credit cards will be accepted at the onsite and off-site parking lots. Carpooling, public transportation, and ride-sharing are encouraged. Drop offs are allowed at every site as well.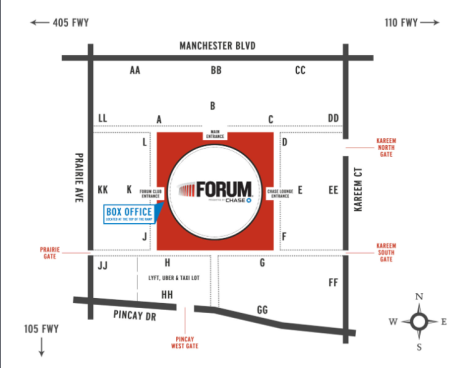 As for tickets, prices (for the Los Angeles dates) start at about $98 as of 1/18/2022. Prices were originally about $80 for nosebleeds, and $250 for floor seats + VIP, but ticket prices have gone up due to resellers.
If you are interested in getting a ticket, ticketmaster may still have some available, however prices will be higher due to resellers/scalpers. Although there are many ways to access and buy tickets, one way is to buy them from another fan who may have an extra, or can't make it to the show. This is typically done through Twitter.
However, watch out for scammers! 
If any more questions may linger, visit The Forum's FAQ page.