BTS Concert Leaves An Impact On Many
Fans of BTS (called ARMY) prepared themselves heavily for the BTS concerts that were held at Sofi Stadium in Inglewood, California. For the first time in two years, the members were finally able to perform in person for ARMY.
The concerts were held from November 27-28 and December 1-2. The stadium opened at 5:30 p.m and the actual shows started at 7:30 and lasted until about 10:00 p.m. 
"I saw so many videos of people there as early as like- 3:00 in the morning," said junior Cassie Meza, an attendee of the December 2nd show. "And the lines went on for blocks, just to get merchandise."
Sofi Stadium had many policies in place for the BTS concert. First and foremost, guests were unable to enter if they did not have proof of a negative COVID test or a vaccination card. All guests over 18 were also required to show proof of an ID.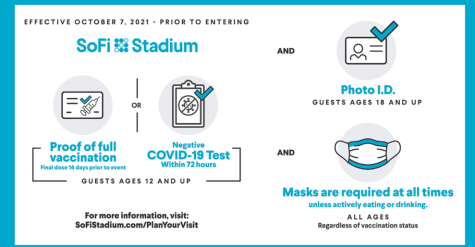 The stadium also had a clear bag policy and restricted items list; refer here to see the policies. Sofi stadium is also a completely cashless facility, even when selling food and drinks. Additionally, the stadium offered ASL interpreting services at all 4 BTS shows.
According to Meza, the whole concert was extremely enjoyable but the workers were unorganized and some even unauthorized to be working there.
"Sofi has a special ATM where you can transfer cash and get a card," Meza said. "But I didn't know how to work it, so I asked about five different workers and they all said, 'Sorry I don't know how to work it either.' Overall it was just very unhelpful."
At Sofi Stadium, there are many different parking lots with some parent pick-up and drop-off zones, and parking even ranged from $55-80. In lot E and inside of the stadium, merchandise was sold for fans to purchase.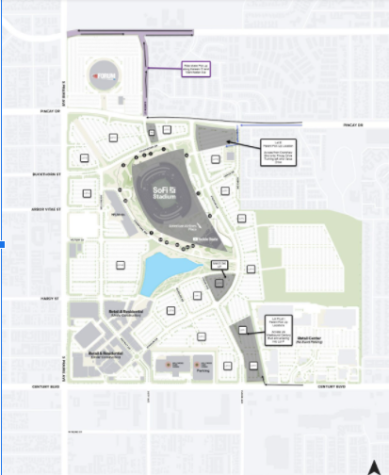 For the people who arrived to their seats before the show started, BTS' music videos were playing for the whole stadium to sing along to while they waited. Right at 7:30, the screens dimmed and a VCR started playing; it lasted a few minutes.
Shortly after, the boys had come out and kicked off the show with some of their most upbeat songs and intense choreographies. They then introduced themselves and talked to ARMY for a few minutes before proceeding with more performances; this was how the bulk of the concert went (with the exception of a few intermissions in between so the boys could prepare backstage).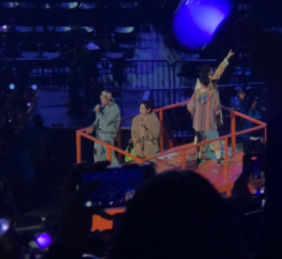 BTS also had a few guests during their shows. On the December 28th show, Megan Thee Stallion rapped her verse in 'Butter' with the members. On the December second show, at the end of the concert, Coldplay sang 'My Universe' as a surprise for the fans. Additionally, many celebrities attended the shows like Halsey, Melanie Martinez, and a J-Pop group under HYBE Labels (BTS' company).
Fans all over social media posted the personal videos they had taken of the concert, and it is an understatement to say that they enjoyed the show.