A Swifties' Wildest Dreams
On November 12, 2021, American singer Taylor Swift re-released her fourth studio album, "Red" and renamed it to "Red (Taylor's Version)." She did this because between 2005 – 2018 Taylor was signed to the record label, Big Machine Records.  Due to the contract she signed with BMR, Swift did not own any rights to her own music despite being the main songwriter for a majority of her songs and believing that "Artists should own their own work for so many reasons," as she posted on her Instagram. When Scooter Braun acquired BMR in 2019, he also became the owner of all the master recordings owned by BMR, including the master copies of Swift's first six albums which he eventually sold. 
Red was originally released on October 22, 2012 by Big Machine Records. It contains some of her most popular songs such as "I Knew You Were Trouble" and the lead single, "We Are Never Ever Getting Back Together."
"Red (Taylor's Version)" was an immediate success on Spotify, breaking the record for the most streamed album by a female in one day. The day of its release, "Red (Taylor's Version)" was streamed 90.8 million times. 
"Red (Taylor's Version)" includes the 30 songs originally made for the album, including a 10-minute version of her song "All Too Well." There are many different genres showcased in the album such as country, pop, and rock to name a few. Many of the songs contradict each other and, collectively, try to tell the emotional turbulence of a messy breakup. In an interview with Rolling Stones that discussed the meaning of the original album, "Red," Swift said, "It was sort of a metaphor for how messy a real breakup is, and this is my only true breakup album."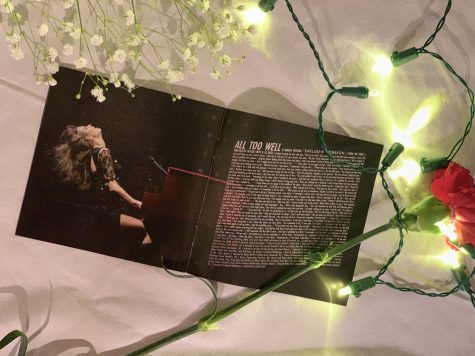 Along with the new version of "All Too Well," Swift released a short film that is based on the song also titled "All Too Well." The short film encapsulates the turmoil between a declining relationship.
Many Swifties are also excited to see Taylor re-release her music. "She's amazing for doing that because what Scooter did was really messed up," said Karen Sanchez freshman. "I feel really great about it because she is taking her ownership back, like she deserves 'cause she's a queen," Julia Pollard freshman said. "It's gonna sound better too because her voice is more mature," she added. 
A fandom favorite that many Swifties want to see re-recorded is the 2017 best-selling album, "Reputation." Chris Tam freshman also wishes to see Ariana Grande and Taylor Swift collaborate on the song "Afterglow" from the album "Lover." There is speculation that the collaboration was intended to be released, but due to the drama between Braun and Swift, many believe that it was canceled.
Though the world may not get to hear many songs due to the contract Swift signed with BMR, many Swifties are completely fine with it as long as they get to see Swift take control of her own music. Nonetheless, Taylor Swift re-releasing her music is a great step toward a future where artists can freely express their ideas through music without the restraint of a statistics-focused record label.
Sources:
https://en.wikipedia.org/wiki/Red_(Taylor_Swift_album) 
https://taylorswift.fandom.com/wiki/Red 
https://www.rollingstone.com/music/music-features/500-greatest-albums-taylor-swift-red-1059586/ 
https://en.wikipedia.org/wiki/Red_(Taylor_Swift_album)#:~:text=Red%20was%20a%20commercial%20success,Red%20exceeded%203.1%20million%20copies.  
https://www.businessinsider.com/taylor-swift-rerecording-red-taylors-version-breaks-two-spotify-records-2021-11 
https://en.wikipedia.org/wiki/All_Too_Well:_The_Short_Film 
https://variety.com/2021/music/news/taylor-swift-breaks-spotify-record-red-taylors-version-streams-1235111709/ 
https://www.businessinsider.com/taylor-swift-rerecording-red-taylors-version-breaks-two-spotify-records-2021-11 
https://en.wikipedia.org/wiki/Taylor_Swift_masters_controversy 
https://exhale.breatheheavy.com/forums/topic/799049-was-afterglow-supposed-to-be-a-duet-between-taylor-swift-and-ariana-grande-her-name-was-just-added-to-the-performer-list-database-by-bmi/ 
https://www.usmagazine.com/entertainment/pictures/taylor-swifts-red-everything-to-know-about-the-rereleased-album/