Jolleen Jimenez | Freshmen Friday
Jolleen Jimenez, an assertive freshman at Mt. SAC ECA who's ready to take the world by storm. Jolleen has come a long way in her life and everyday she leads herself to be the best version of herself she can be. It has not been easy to get where she is now and she's proud of all her accomplishments and obstacles she has conquered becoming who she is.
Jolleen has a strong spirit and it shows. If anyone reading this ever gets the chance to meet her, she'd definitely leave a strong impression. A big thing people notice when they're around her is how easy going she is. A social butterfly is another good way to describe her, an extrovert at its finest.
If you were to ask Jolleen's friends what their favorite thing about her is, they would probably all say the same thing, "Her personality" as said by freshman Rubi Luna-Osorio,"Jolleen is a very nice person because she cares about others."
"She's very outgoing," said freshman and friend Aliana Jaramillo.
If you ever need help or advice, go to Jolleen. According to her friends she is great at giving advice, the best advice anyone could ever get, although, Jolleen believes her friends think she's very loud and confusing in anything she does. 
 Freshman Rubi Luna-Osorio, one of Jolleen's friends, had many great things to say about Jolleen but something that significantly makes up Joleen is that, "she doesn't care what people think" Jolleen is a strong independent girl who doesn't try to fit into people's image of who they think she should be. She is true to herself and she doesn't care what anyone else has to say about it.
 "I want to be remembered as someone who just lived their life and didn't care what people think," said Jolleen.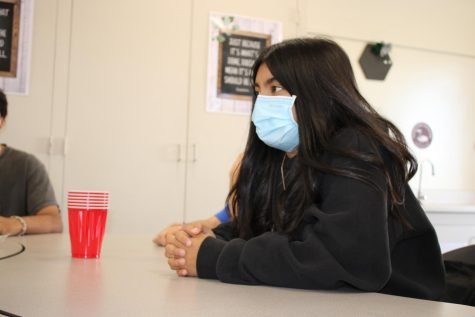 Even though Jolleen is strong willed, and couldn't care less what people thought of her, she is still human and no one knows what's behind the people who seem like everything is the greatest  it can be. Everyone has feelings and Jolleen is no exception.
"I'm very sensitive," she said "Even though I put up a front and act like it doesn't hurt, it does." 
Feelings could be a very sensitive topic to talk about but sometimes it's good to let them out, especially if those feelings are those that make you annoyed. There are some things that people just can't stand, pet peeves per say and Jolleen has a couple of those to share.
"I don't like liars, I don't like fake people, and I don't like people who eat with their mouth open."
Everyday there are traits people have that could get under someone's skin but there are also admirable traits that inspire others to do their best in whatever they can and to better themselves and those around them. Jolleen has someone in her life that has these admirable traits and she's forever grateful to have them always nearby.
"My mom, " Jolleen expresses "My mom is a very hardworking person, she gets home tired from a twelve hour shift or an eight hour shift and she still makes sure we're good and that we have everything we need."
Jolleen is proud of her mother and the young girl her mother has raised her to be and while Jolleen hasn't  always felt that she was doing the best she could, she's proud of who she has become and even more so of who she will become. That's her biggest accomplishment.
"Changing who I was and coming to this school, showing my parents that I could do better," Jolleen explains, "Making them proud."
Jolleen is a strong, caring person and wants a future where she can show it. She wants to become a social worker and help people and children in the way she noticed someone do when she was a kid. One day at her old school there was a rumour going around that something was happening in her home and while nothing had happened, there were social workers called and she watched how they responded to her and her brother and how kind and caring they were. She then decided that she wanted to be someone who was able to respond like them and help those who needed it.
Jolleen has great plans for a bright future ahead of her but the most important thing is to continue being herself and living life the way she wants.
"Being successful, living my best life, continuing not to care what people think, and having my friends that I have now with me" is the way Jolleen's life will be.