The Evolution of Halloween and Halloween Costumes
Halloween in the 21st century is what many would regard as a way to relax, have fun, and dress however someone wants to without judgement from others. However, the Halloween traditions that many celebrate today are rooted from much deeper traditions that can be traced all the way back to the 8th century.
The first Halloween costume was believed to be worn by the Celts for their festival called Samhain. During the festival, it was believed that, "The world of the gods became visible to humans, resulting in supernatural mischief," according to travel and culture journalist, Marianna Cerini. Costumes and disguises were worn and food was offered to the gods in hopes that the spirits would mistake them as one of their own. 
However, others hid under masks and other disguises while they pranked each other and blamed it on supernatural spirits. This may have been the start of the Halloween pranks that are popular today. 
In the 11th century, Christians adopted the Celts' Samhain celebration and called October 31, All Hallows Eve.
 In the 18th century, as Irish and Scottish immigrants started migrating to America, the celebration of Halloween also migrated with them. According to fashion historian and director of New York University's costume studies MA program, Nancy Deihl, people in America welcomed its religious roots and enjoyed the idea of a dark celebration involving death. The costumes that Americans would make largely consisted of whatever they had in the house. The reason for dressing up was to be completely disguised.   
Within the past few decades, Halloween costumes started to relate less to spirits and more to pop-culture icons. With the rise of different movie, comic, and TV show franchises, kids started dressing like their favorite characters like Wonder Woman, Indiana Jones, and Luke Skywalker.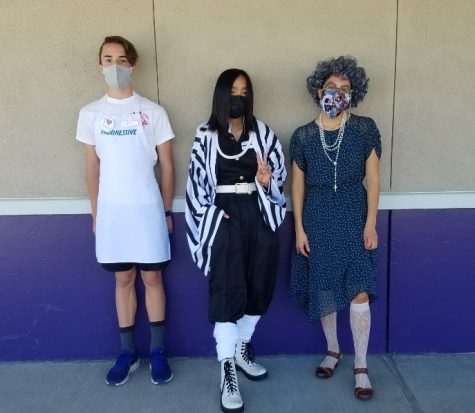 However, scary costumes still existed but they were interpreted in a different way. Many of the scary costumes were from horror movies, like Freddy Krueger from Nightmare on Elm Street. 
 Today, Halloween costumes are extremely popular and are even a 3.4 billion dollar industry, according to Eli Segall of the Las Vegas Review-Journal. Costumes have evolved from being a spiritual practice, to dressing up as your favorite character, to recent campy costumes.
Halloween is a unique holiday filled with rich practices from many different cultures. It has managed to greatly evolve throughout the years yet still pay homage to its spiritual roots. With how passionate many are about Halloween, it is exciting to fantasize about how Halloween will look like in 10, 50, and even 200 years from now.
Sources:
https://www.history.com/topics/halloween/history-of-halloween 
https://www.cnn.com/style/article/history-of-halloween-costumes/index.html  
https://www.reviewjournal.com/business/how-much-money-do-those-halloween-popup-stores-actually-make/