Freshman Friday | Amalie Esparza
This special edition Freshman Friday was posted on Monday due to it being published over Summer. Enjoy! 
Amalie Esparza, a promising artist at MT. SAC ECA has developed an interest in a unique art form termed glass art. Amalie gained inspiration after seeing a fellow artist on TikTok, a trendy social media platform.
Amalie has followed the same process for five months. The first step is to find the right picture of the anime character she wants to paint and flip it horizontally.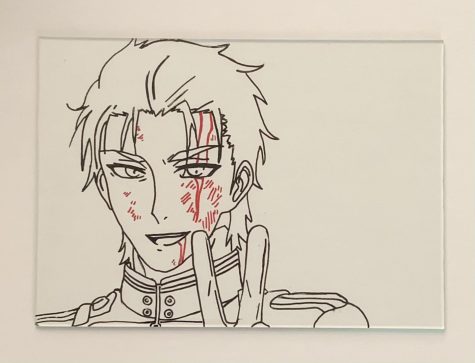 "So I basically print that out, I get my glass, I get my pen, a craft smartpen for glass and use that to outline the artwork." Amalie uses acrylic paint that matches the colors of the characters. After waiting for the paint to dry, she'll add mod podge over the paint and glass. Mod podge, according to Amalie, prevents scarring and helps the paint last longer.
Amalie has done multiple artworks in five months, and she isn't planning on stopping anytime soon. Izuku Midoriya and Dabi from My Hero Academia, and Kotaro Bokuto from Haikyuu! being a few of the characters she has done. Amalie's favorite art piece is her painting of Kakashi Hatake from Naruto. She posts her artwork on Instagram, another very popular social media platform.
Like many other artists, Amalie has been encouraged to sell her art. "I have been encouraged by my family and I think I might in the future." We'll be sure to look out for that!
"Don't be discouraged by your first glass art because it's not easy." says Amalie to those who want to start.
"Another thing is to be careful when handling your glass, you don't want to get cuts on your fingers, trust me it hurts. Also, don't forget to flip or reverse your image, I tend to do this a lot and my images come out the opposite way I wanted them to." Art is a journey, so be careful and patient!
Donate to The Academy Chronicle