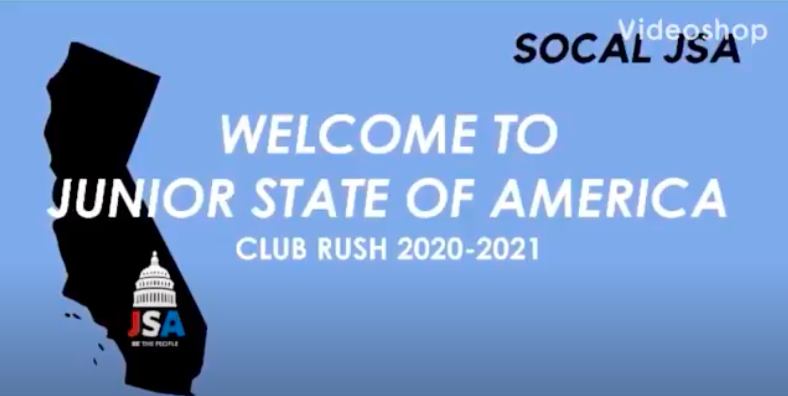 Image by JSA
Club Craze | JSA
Mt. SAC ECA's Junior State of America (JSA) club is a group of dedicated individuals who discuss and debate important political and social topics. This newly founded club, through its achievements and efforts, has been selected as "JSA Expansion Chapter of the Year" by Junior State of America, a national organization that works with Mt. SAC ECA's chapter.
JSA is a student-led organization that encourages civil discourse and democratic leadership in a nonpartisan fashion, which means that JSA has no specific political affiliation. Understanding and sympathizing with other views is an important part of JSA's mission.
Mt. SAC ECA's JSA chapter values and reinforces similar views in their thought talks, an activity where students discuss a topic, and deep discussions; these talks and discussions are only a few of the activities this club participates in.
Due to COVID-19 and lack of funding, it seemed that JSA at Mt. SAC ECA would not get the full "JSA experience" this school year- but, Anisa Oza, junior and club president of JSA, did not want to disappoint.
"[We] recreated the organization's biggest convention of the year [Winter Congress] and brought it right to Mt. SAC ECA virtually," Anisa stated. "We held a four-week-long event with bill-writing workshops, debates, and a guest speaker!"
Because of its accomplishments as a new chapter, the national JSA organization selected Mt. SAC ECA's chapter as the "JSA Expansion Chapter of the Year!"
Anisa Oza remains hopeful in the future of Mt. SAC ECA's JSA club: "Now, we are up in the running for the National JSA Expansion Chapter of the Year and the JSA Chapter of the Year."
Mt. SAC ECA's JSA club has a splendor of projects and goals, creating an engaging, fascinating, and award-winning club.
Anisa Oza "wanted to create JSA for our school to help students be more politically involved and knowledgeable about what is going on in our country and globally."
By informing the students of Mt. SAC ECA, Anisa hopes to encourage students to "[put] their best foot forward to help create change for the people."
Hafsa Shafiq, junior and club member of JSA, wanted to be a part of JSA "to be better acquainted with political issues and be able to successfully debate social issues. Because JSA is non-partisan, I believed through this organization I would be able to do that."
JSA and Mt. SAC ECA's chapter greatly value this ability to inform young people in the midst of a polarizing political climate.
While staying informed, Hafsa also hoped to use skills gained in JSA's discussions and activities throughout life.
"Through the Winter Congress, our Thought Talks, and other activities we do in JSA I hope to become a better debater," Hafsa stated. "I am sometimes around people with opposing views, so it is important for me to find common ground."
The Junior State of America organization holds many conferences and seminars, such as Spring State, an event with debates and activism workshops; Winter Congress, which provides students with a simulation of the workings of Congress and the process of bill-making; and many other activities that Mt. SAC ECA's chapter participates in.
To learn more about this club, watch their club rush video. Look out for this club next year and consider joining JSA!
Donate to The Academy Chronicle