The Progression of Adapting to Online Learning
An average Friday for many to begin with… till later on that day. As students and teachers were stoked to be let out for the weekend, the news was released:. "Hello…we are going to have two weeks off from school." Sounds great right? However, till you realize it's actually your last day at school, and that's when the journey first begins…
As time has progressed, students and teachers have adapted to virtual learning. Due to the rise of Covid-19 cases worldwide, millions of schools all around have had to switch to virtual learning to ensure safety for everyone.
California's 40th governor, Gavin Newsom tweeted on July 17, 2020, "Schools must provide meaningful learning during #COVID19. And must do everything we can to keep our teachers, staff & students safe."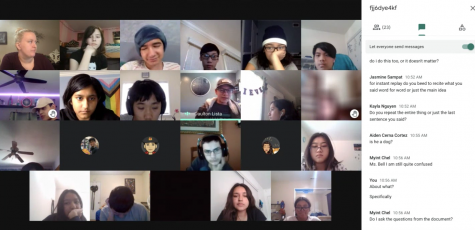 Nearly 1.4 billion children across the globe, including schools or child care have had to switch to online learning.
Although online learning may be the safest option in this scenario of a pandemic, many students prefer being in a classroom rather than learning virtually. 
"It's easier to ask teachers questions and pay attention in class if you are physically there, rather than the comfort of your own home," claimed freshman Ameena Shafiq. 
Students and teachers worldwide have had to adapt from their everyday lives in a classroom, to now have to interact and engage through a screen. 
Freshman Antonio Orduno states, "My favorite part about being in the classroom is just being able to interact with everyone and everything. I can't get that same feeling virtually."
And although interacting with people sounds great, due to the pandemic being at home is the safest option. 
Virtual learning has now taken a place as an academic health safety learning system. 
"There are some benefits to virtual learning but in all honesty, I do not like it," expressed freshman Antonio Orduno. "Being able to interact in person is very important to me and just doing everything on a computer feels off."
Interaction is the main concern of most children, according to psychologists studying the effects of COVID. 
"Children have many worries related to the consequences of COVID-19 such as whether they will see their friends and relatives, go to school or get sick," says psychologist Karen Dineen Wagner in "New Findings About  Children's Children's Mental Health During COVID-19." "COVID-19 is affecting the mental health of children and adolescents and that depression and anxiety are prevalent."
A lot of change and adaptation has occurred to students all around as time progresses. And although virtual learning may be the safest option because of this pandemic, to many students it has been very stressful and not mentally the best option. 
"For some children with depression, there will be considerable difficulties adjusting back to normal life when school resumes," stated Journalism, Joycee Lee on April 14, 2020, "Mental Health Effects of School Closure During COVID-19."
A lot of stress has come amongst students virtual learning. However, some changes can be made to endure a stress-free learning environment for students. 
"I think one change that could be made is how long we stay on zoom calls for classes. This has frequently caused me headaches from staring at a screen that is so close to my face for so long during the day," Sophomore Sydney Sherred claimed  "A few ways that this could be solved is if we were given more breaks during classes or if we had more asynchronous class time." 
Virtual learning may not be the preferable option to many to begin with, but we can all work together to make it an environment that everyone can look upon. We're all in this together. 
Leave a Comment
Donate to The Academy Chronicle
Your donation will support the student journalists of Mt. SAC Early College Academy. Your contribution will allow us to purchase equipment and cover our annual website hosting costs.