Teachers and their Pets!
Teachers at Mt. SAC ECA will have a reputation for having the cutest pets in the West Covina Unified District! These cute and fluffy companions are not only adorable, but they help relieve stress during the current pandemic.
Principle Leuthold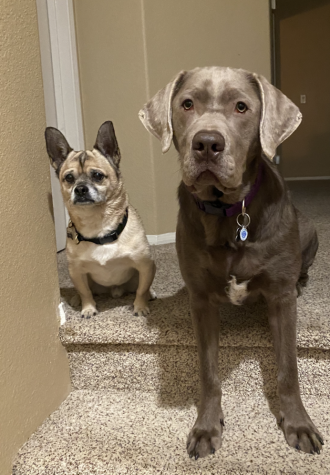 Principal Leuthold has two dogs. The big one's name is Gus, and the small one is called Dash. Gus is a silver lab and is almost a year old. He is currently in training to be a therapy dog. Dash is a mix (french bulldog, corgi, and pug) and is ten years old. Principal Leuthold got Dash one night at her veterinary office. She was there with another dog, and a family brought him in to give him up. He was only nine weeks old, and they said they couldn't afford to keep him. She took him home that night. Some fun facts about Dash are that he is a master of napping and yoga.
Ms. Sprague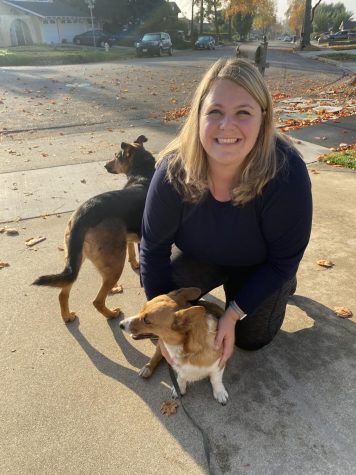 Ms. Sprague also has two dogs. The corgi's name is Katie, and Ginger is the other one, which Ms. Sprauge believes to be a German Shepherd and Labrador mix. Katie is two and a half years old. Ms. Sprague gave her a new home when a couple couldn't keep her due to the fires in California. She is a funny little corgi that often steals socks. Ginger is an eight-year-old rescue dog, and she is delightful. Another fun fact about Ginger is that whenever the police or an ambulance comes by Ms. Sprague's house, she will howl along with the sirens. Even when Ginger sometimes gets annoyed with Katie and hoards all the dog toys like a dragon in her den, they are like sisters.
Ms.Yao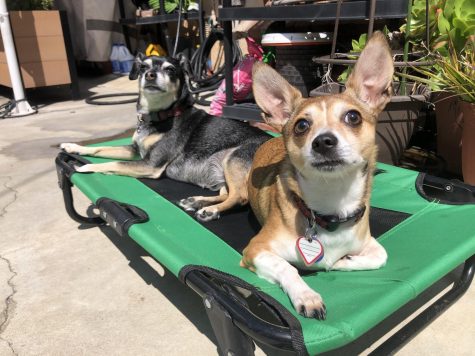 Ms.Yao has two dogs. The tan one is named Gidget, and the Black one is named Cookie. An interesting fact about Gidget is that she is completely blind!
Ms. Maggiore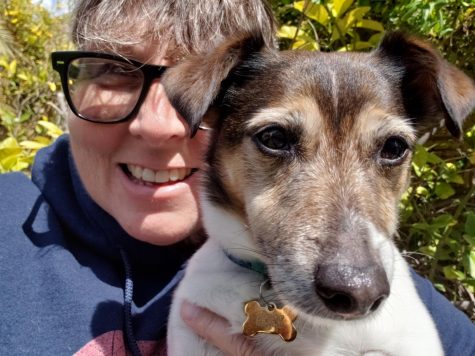 Ms. Maggiore has a dog named Finn, and he is an eleven-year-old Jack Russell Terrier. She loves to swim and fetch. Finn had to have a toe removed from her left front foot, so her nickname is "Tri-tip."
Ms. Wilcox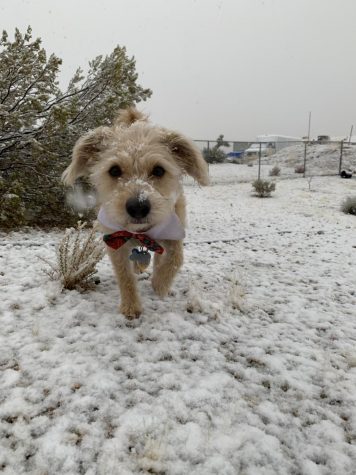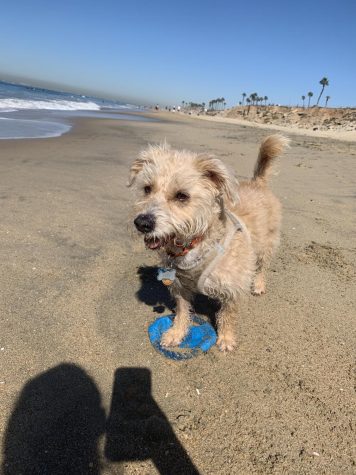 Ms. Wilcox has a cute dog named Stanley! Stanley is just as comfortable in the snow as he is in the sand. He sometimes makes a special appearance in Ms. Wilcox's class, and he is always a joy to see!
Ms. Bell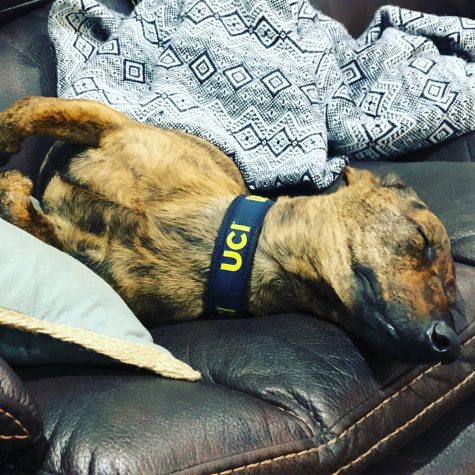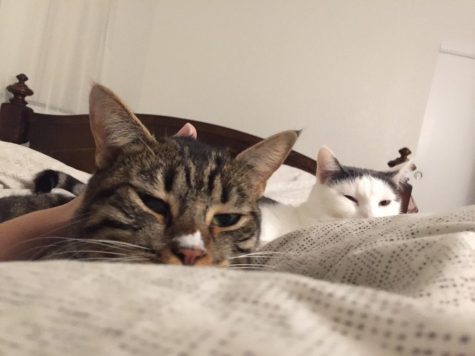 Ms. Bell's cats are Minnie (white and grey) and Ella, a Tabby cat. Minnie loves most pets but doesn't like dogs. Ella loves to be very vocal and loves to have her butt scratched. They love to cuddle. They also live outside because they like it better out there. Ms. Bell also has a dog named Finn, just like Ms. Maggorie's!. He loves to chase things and hates baths.
Ms. Hoffman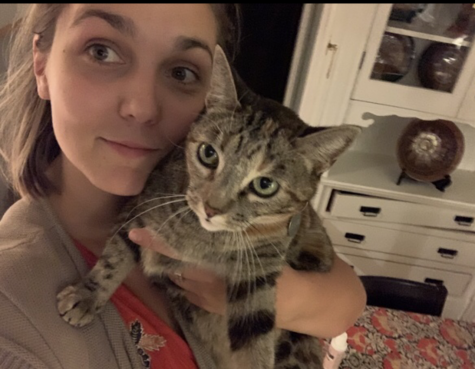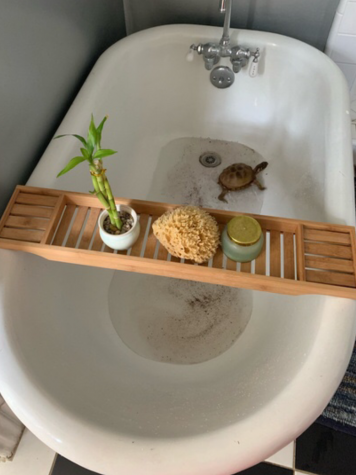 Ms. Hoffman currently has a cat named Felix that she adopted when she moved into a new house. The previous owners had left two cats behind, and Ms. Hoffman welcomed them with open arms. Sadly one of the cats, Tux, went missing last year. Felix is a happy cat, mainly sleeping all day or sunbathing on the front doorstep. She especially enjoys making celebrity appearances while Ms. Hoffman is teaching online. Ms. Hoffman also has a turtle named Natasha, who was originally the Nature Club's pet turtle. Natasha hibernates a lot, and sometimes Ms. Hoffman won't see her for weeks! When the weather permits and Natasha is awake, Ms. Hoffman takes her outside to roam in her garden beds.
Mr. Janadi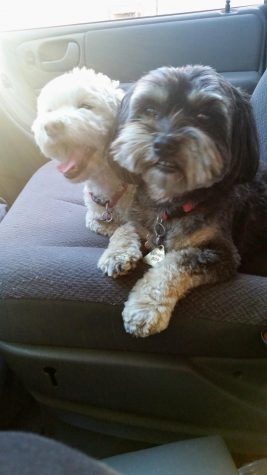 Mr.Janadi and his wife have two dogs. His wife found them wandering the streets about eight years ago; they have been inseparable ever since.
Ms. Banh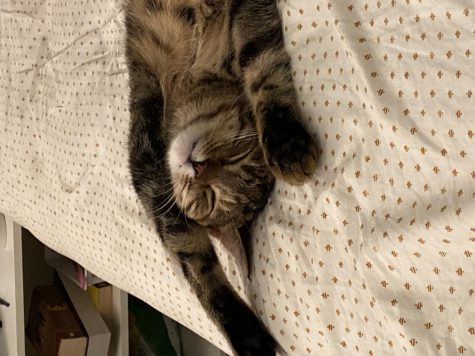 Ms.Banh has a cat named Daisy, that she adopted at four months old. Daisy likes to sleep on top of chimney ledges and Ms.Bahn's computer tower. Daisy also doesn't like to be held like a baby, but Ms. Banh does it anyway,
It would be challenging for most to decide who is the best of these fine furry and not-so-furry friends! Emely Estrada, a Mt. SAC ECA student, stated, "I think the most interesting pet is Gus because he is training to become a therapy dog!"
In an article by TuftsNow, Megan Muller, a professor at Cummings School and a researcher studying how pets help people, discusses pets' benefits during COVID-19. She states, "Pets provide nonjudgmental emotional support, and studies show that contact with pets helps reduce stress and anxiety, particularly when you are experiencing a stressful situation" (Rajewski 4). She further explains that pets can motivate you to do good things for your mental health, and activities with animals that you enjoy will help bring back some normalcy.
Pets help by reducing stress and anxiety during these troubling times. They are also here to help us cope with physical and social isolation. Even though quarantine is rough, most of us get the comfort of having pets and enjoying time with them!
Leave a Comment
Donate to The Academy Chronicle
Your donation will support the student journalists of Mt. SAC Early College Academy. Your contribution will allow us to purchase equipment and cover our annual website hosting costs.
About the Contributor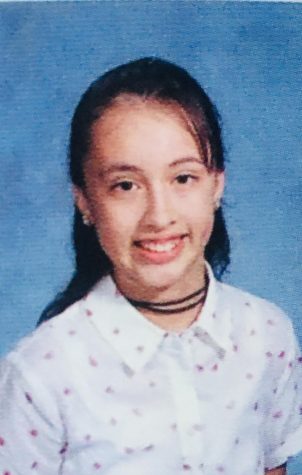 Charlize Cardona, Staff Writer
Charlize Cardona is in 9th grade. She is excited to be on The Chronicle Staff for her first year of highschool. So far she has no other clubs but is planning...