Recap of Disney's 2020 Investor Day: What's Coming?
In the lead up to 2021, Disney hosted a live webcast called Disney Investor Day, an event that is, according to the Walt Disney Company website, "focused on the Company's direct-to-consumer streaming services." In this three and a half-hour webcast, the Disney + and Hulu executives talk about the milestones made in 2020 and the new titles and changes to come in the future from the big Pixar features to the half a dozen upcoming Marvel shows..  
Streaming Additions and Changes
The hosts first talk about marketing and distribution (lasting a grand total of 55 minutes). Taking it apart, there are some interesting things to note. First of all, future release methods will vary from simultaneous release (like HBO Max) to in theatres before Disney + and Hulu to streaming service exclusives based on the interest level of the film. Each year they plan to release 100+ titles total to their streaming services.
In addition, Disney is expanding their horizon with third-party distributors such as Apple, Roku, and even foreign distributors that reach different countries all over the world.
Next, Disney will also be adding "Star" as a 6th tile in the Disney + streaming service on February 23rd. Star is a kind of Hulu-eque category for "general entertainment" and "off-network content outside of the United States." Some of this new content including classics such as Family Guy and Die Hard.
Lastly, ESPN+ and FX will be added to Hulu to make it more accessible, and extra non-event content will be added to ESPN+.
And with all that out of the way, we'll get into the different shows, films, and shorts that will be coming to Disney +.
Disney Animated 
Disney Animation Studios will bring life to many different series, movies, and amazing spin-offs focusing on new characters as well as very familiar, iconic characters. First off we have the Ice Age: The Adventures of Buck Wild spin-off. According to the Creative Officer Chief of Walt Disney Animation Studios, Jennifer Lee, "It centers on three series favorites: the prankster possum brothers Crash and Eddie, and the swashbuckling weasel of the title, Buck." 
Diary of a Wimpy Kid will also be reimagined in an animated world in an all-new series, Greg Heffley will embark on new adventures in a whole new world. A Night At The Museum is another film that will also be made in the future but with a magical animated take. "Real" dinosaurs, mummies, and cavemen will become exciting animated characters. 
Next up, we have Baymax: The Series which is a continuation of the movie Big Hero 6, will, of course, be focusing on the white huggable robot that is Baymax. Zootopia + is another series coming soon and according to Jennifer Lee, it will take a "hilarious look at some of the animals we only briefly met in the Oscar-winning film." The iconic Disney Princesses, Tiana, and Moana will be getting their very own musical comedy series named after their very own names. 
Upcoming original films have people on the edge of their seats too. Encanto takes you through a magical world set in Columbia where you'll get to meet the Madrigal family while the other original film, Raya and the Last Dragon, will take you on a journey with a warrior fighting her way through a kingdom taking place in Southeast Asia. 
Excitement regarding this particular movie is seen in many people, and MECA teacher, Ms. Bell is one of them. "I am also super excited about Raya and the Last Dragon because it has been a while since we've had a new 'princess'-ish movie," she enthusiastically explained, "I'm still not sure if Raya is a princess or not, but she does seem like a super kick butt heroine!"  Like this, many are moved in a positive way by these new films.
These animated titles will take you on new unpredictable journeys that are sure to be magical.
Disney Live-Action
In recent years, live-action remakes have risen in popularity. Classics like The Lion King, Mowgli, Mulan, Cinderella, and The Beauty and The Beast have been retold over the past few years. Disney has decided that more will be to come with these new live-action projects that will soon grace headlines. 
According to Sean Bailey, President of Walt Disney Studios Motion Pictures Productions, Cruella from 101 Dalmatians will be getting her own new film. Cruella, "dives into the rebellious early days of one of the most notorious – and notoriously fashionable – villains, the legendary Cruella de Vil."  Oscar-winning actress, Emma Stone, is set to play this intriguing character. 
Movies like The Lion King and The Beauty and The Beast will also be getting their very own prequels. The Lion King will have a movie while The Beauty and The Beast will have its story told in a live-action series. 
The following titles have their own live-action movies being developed: The Little Mermaid, Pinocchio, and Peter Pan and Wendy. Pinocchio is rumored to be having Tom Hanks starring as Gepetto. Meanwhile, The Little Mermaid will have Halle Bailey playing the iconic underwater princess, Ariel. 
Along with prequels coming along, sequels will also have their moment to shine. Disenchanted is the upcoming sequel to the original 2007 film, Enchanted, and will be having Amy Adams back for her role as the very optimistic and day-dreaming Giselle.  
The Halloween classic, Hocus Pocus is also having a sequel in the making, and actresses: Bette Midler, Sarah Jessica Parker, and Kathy Najimi will be reprising their roles as the iconic witch trio: Winny, Sarah, and Mary Sanderson. All these upcoming movies are sure to have a new magical twist just like the other live-action remakes were given.
Pixar
Disney's Pixar has been a powerhouse for many classic movies such as Toy Story and Wall-E. For the next few years, they've planned many ambitious projects for Disney consumers.
The first is Lightyear which as Pete Docter, the Chief Creative Officer at Pixar explains is a film illustrating "the definitive origin story of the original Buzz Lightyear, and it reveals how this young test pilot became the Space Ranger we all know him to be today." Rather than a prequel, this acts as a movie inside a movie. The current release date is mid-2022.
Another film coming in 2022 is Turning Red, a coming-of-age story about a young 13-year old named Mei who struggled with the changes of growing up- with one small problem, she turns into a big, furry red panda whenever she gets excited.
The last film Pixar announced (other than Soul, which is already out), is Luca, coming in mid-2021. Empire magazine explains, "Set on the coast of Italy in the dazzling summer days, its central character, Luca, and his friend Alberto are actually sea creatures who appear human on dry land, but take on a fishier form underwater."
In addition to these three feature films, Pixar has also planned three animated series. Our first series is a spin-off of fan-favorite, Up called Dug Days to be released in Fall 2021. This series is about the talking dog, Dug, and his new owner Carl, now back from the jungle, facing "the dangers of suburbia". Next is a Cars sequel series following McQueen and Mater taking a road trip around the country. Last, but certainly not least is an original series named Win or Lose about a middle school softball team. Coming in 2023, each episode is the same week leading up to their big game told from the perspective of a different person.
Even though Pixar seems to have less pumping out in the coming years. Prioritizing quality over quantity seems like a good route to make sure each show or movie comes out the best it can be.
Lucas Film
Many Star Wars fans were delighted when a heap of new content was announced during the event. Fans erupted in excitement as the Obi-Wan Kenobi series was announced which will have Ewan McGregor back as Obi-Wan and Hayden Christensen back as Anakin Skywalker, much to the delight of most. The Obi-Wan Kenobi series is set to take place ten years after the events of Revenge Of The Sith in which Anakin Skywalker makes the final switch to the dark side and earns his title as the iconic Sith Lord, Darth Vader. 
     Ahsoka Tano will be getting her own series titled Ahsoka. This series will be based around the time of The Mandalorian and will follow Ahsoka on her adventure on pursuing Chiss Tactician, who most likely has dark plans she intends on discovering. 
       Star Wars: Rangers of The New Republic and Andor are some other series that are in the works. The latter will be a "tense nail-biting spy thriller" according to Kathleen Kennedy, President of Lucasfilm. 
Alongside Andor, The Acolyte was announced and Kennedy was quoted saying that it's, "a mystery thriller that will take us into a galaxy of shadowy secrets and emerging Dark Side powers in the final days of the High Republic era." 
The Bad Batch is a spin-off series animated like that of The Clone Wars focusing on Clone Force 99 specialist commandos going on all-new missions in a galaxy that is being swept up in changes.
Star Wars: Visions is set to be an anime series that will shine light on the Star Wars universe like never before. 
However, it may not have the best response from the fans. After hearing this news, freshman student Micheal Cherry simply muttered, "Oh no." with dread. 
Lando Calrissian, a character from the original Star Wars trilogy will also be put in the limelight with a new upcoming series called Lando.
As for feature films, Star Wars: Rogue Squadron was described by Kathleen Kennedy as the following "a new generation of starfighter pilots as they earn their wings and risk their lives in a boundary-pushing, high-speed thrill ride." Lastly under the Star Wars belt, A Droid Story will be a film following the beloved droids R2-D2 and C-3PO and their "special" mission. 
Star Wars news is not all Lucasfilm has to announce. New movies and series will be kicking off. 
Willow is a series set to be based on Ron Howard's 1988 movie and will embrace the theme of humor very much like the original film. Indiana Jones 5 will take us along with Indiana Jones on new adventures, and Children of Blood and Bone is a story that will tell the story of an African girl and her mission "to restore magic to her forsaken people, the Maji." 
     From Star Wars to Indiana Jones, Lucasfilm has a lot for us waiting in the wings to be set free.
Marvel
Compared to the other categories, Marvel is tied with Disney live-action for most titles announced both with a whopping 24 shows, shorts, and movies briefly covered. 
Let's first go over the 10 upcoming feature films. Movies coming in 2021 include Doctor Strange and the Multiverse of Madness in March, Black Widow in May, Shang-Chi and the Legend of the 7 Rings in July, Guardians of the Galaxy Vol. 3 in August, and The Eternals in November.
In 2022, Thor: Love and Thunder, Blade (reboot), Ant-Man and the Wasp: Quantumania, Black Panther 2, and Fantastic Four are scheduled to be released. It's also worthy to note that a new actor won't be recast as T'Challa in Black Panther 2 in order to pay tribute to the original actor, Chadwick Boseman.
As for the newly announced series, the three with the most hype as of now are WandaVision, which is already out, Falcon and the Winter Soldier, and Loki. The last one was also given a description by Marvel Studios's Chief Creative Officer, Kevin Feige: "We've put Loki in the center of his own crime thriller. If that sounds a little unusual or confusing, don't worry…Loki is just as confused." 
Other than those three, Marvel is also making eight other series. These are Ms. Marvel, Hawkeye, She-Hulk, Moon Knight, Secret Invasion, Ironheart, and Armor Wars all based on their respective comics.
Ms. Bell, a MECA teacher, is particularly excited by the Marvel Studios news saying, "I am most excited about the new Marvel series coming out. I really love Disney and Star Wars too, but since I recently watched all of the Marvel (MCU) movies in a row, I would really love to continue learning more about those characters and their journeys." 
These announcements have grasped many people and left them in wonder, it definitely seems like Disney is really putting a lot into Marvel, and having 24 new titles to watch over the next two years will make the MCU a lot deeper than it already is.
National Geographic
Although at a glance, this section is likely the least interesting to Disney + consumers, the company has announced quite a lineup of five titles that are definitely worthy to be noted.
Secrets of the Whales is a four-part docu-series that, according to the president of National Geographic, Courtney Monroe, "showcases five different whale species in all their visual splendor, revealing the extraordinary culture of the world's most intelligent giants."
Two other upcoming series are A Real Bug's Life, about the experiences of different kinds of bugs living in places from the city to the savannah and America the Beautiful, showcasing different locations in our country.
If you're not a fan of docuseries, the last two might be more to your taste. Limitless is a series following Chris Hemsworth in his journey to unlock the potential of the human body. In this series, Hemsworth undergoes rigorous tests and challenges to find new ways to stay young and healthy and even, potentially reverse the aging process.
Lastly, we have Welcome to Earth starring Will Smith exploring, in person, "some of the most extreme and exciting places on the planet"  from inside the lip of an active volcano to 3,000 feet underwater.
Even if you'd much rather watch an action-packed film or series, National Geographic's new releases are sure to be something to check out.
Hulu (and Star)
Since Disney owns a part of Hulu, they released many announcements for upcoming shows on there, most of which will also be released on Star.
First of all, new episodes will be added to existing shows including American Horror Story, Dave, What We Do in the Shadows, and It's Always Sunny in Philadelphia, the last of which will take Ozzie and Harriet's record for the longest-running live-action sitcom to be made.
There will also be new titles based on novels, old titles, and real-life experiences. Some of these are Dopesick, an American Horror Story spin-off, Shogun, and a new FX show based on Alien.
As for originals, Hulu is releasing a new Comedy show called Only Murders in the Building that "surrounds three strangers who share an obsession with true crime and suddenly find themselves wrapped up in one" (quote from Hulu Advertising) as well as FX's Platform, an anthology about pop culture.
There are only a select few of the twenty or so titles mentioned, each one more exciting than the last.
It's only been a month or so since Disney's Investor Day took place, and the excitement that it brought still lingers as more and more news on upcoming titles are announced. The three-hour live stream definitely gave us a lot to look forward to. Of course, estimated release dates and such are not concrete and are subject to change. On a final note, over the years, Disney has become a powerhouse of entertainment, and whether good or bad, they have a lot in store for us.
Leave a Comment
Donate to The Academy Chronicle
Your donation will support the student journalists of Mt. SAC Early College Academy. Your contribution will allow us to purchase equipment and cover our annual website hosting costs.
About the Contributors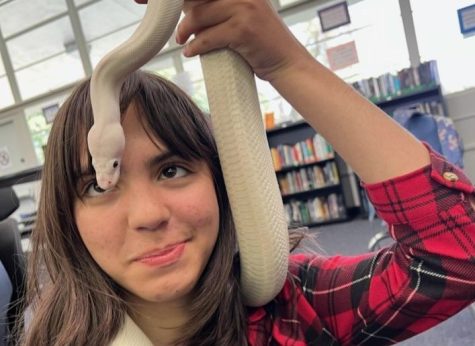 Mackenzie Diaz, Staff Writer
Mackenzie Diaz, an outgoing junior who is in her second year in journalism. She is very lively and participates in many clubs, some including the film...