Imaginary Worlds: Creating Ecosystems in Biology
This semester, Ms. Banh's biology classes had a "make your own ecosystems project" during Mt. SAC Early College Academy's distance learning. With the class studying Ecology, or the study of relationships between living organisms and their environment, Ms. Banh thought it would be a great idea to assign this project to expand their knowledge on the general basics of an ecosystem.
Much thought and effort has gone into these projects. Benjamin Liu, a ninth-grader in Ms. Banh's class, explains, "I think it's really good to expand creativity while learning about science at the same time."
Ben is basing his project on a complete aquatic world with floating, living islands. He also states it's been really difficult for him to come up with interactive connections between his living creations because as he puts it, "I like them so much I don't want them to die."
Ms. Banh states, " I'm hoping to see some awesome new ecosystems and unique organisms, I have full confidence that all of my students are going to be able to meet these expectations…as far as the future of this project, I'd love to be able to continue doing this project with future years."
In previous years the project was assigned as choosing a real-world ecosystem and writing an informational report about the ecosystem of choosing. While the project in previous times was based on information and facts, the project now is more so focused on the creativity aspect.
Ben enjoys this freedom for creativity and Ms. Banh is generally just excited and is looking forward to all the student's designs and ideas. Overall, they both seem to have a positive outlook on this project.
With this project, students must be hard at thinking about what living organisms will inhabit their regions and how they will interact and react with each other, the biome, weather, and maybe even, some nonliving elements. Creativity can skyrocket, but common sense also has to be in play as they also have t
o come up with a narrative that takes place in their worlds. An example of these worlds could be the universe of Ha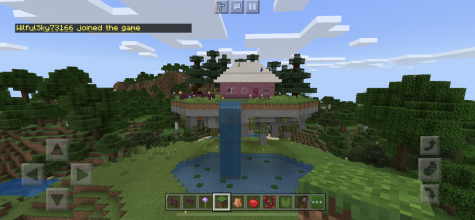 rry Potter, a place where the world of mythical beings, wizards, and magic all take place while maintaining a working plot and reasonable sense. While these projects are still in the making, the future is yet to tell and the imagination and potential will all come down to each individual's effort and thinking in the world of ecology. There doesn't seem to be any other major projects in the world of biology, at least not until next semester. Although in art, students seem to be learning line design and are currently designing their own personalized Zentangles!
Leave a Comment
Donate to The Academy Chronicle
Your donation will support the student journalists of Mt. SAC Early College Academy. Your contribution will allow us to purchase equipment and cover our annual website hosting costs.
About the Contributor
Rene Garcia, Staff Writer
Rene Garcia is currently a freshman at Mt SAC Early College Academy and is in his first year as writer whithin the chronical staff. Rene is also currently...