R.Kelly's Explosive Interview
An Opinion Article Written By Daniela Arreola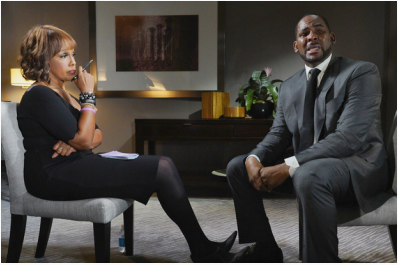 R. Kelly, an R&B singer most known for his hit songs Ignition and I Believe I Can Fly, has faced many sexual misconduct allegations dating back to 1994. The majority of these allegations involve underage girls. He has also been charged with owning and even making child pornography but these charges have been dropped. R. Kelly's past is obviously violent and his entire being is tainted by his actions. His long history of allegations does not show that he is a worthy of sympathy or leniency from the public and could be a strong indicator that he is guilty of the allegations.
On an interview with Gayle King on CBS, Kelly definitely portrays this dark past. In the interview, Ms. King asks
Kelly "Correct me if I'm wrong, that you have never held anyone against their will." Her question refers to a Buzzfeed article that investigated suspicions that R. Kelly was holding women captive.
Kelly gave a rather brash response to Ms. King's question saying "I don't need to. Why would I? How stupid would it be for R. Kelly… to hold somebody, let alone four, five, six, fifty you said. How stupid would I be to do that?"
Instead of answering, he deflected and trivialized Ms. King's question. The manner in which Kelly says all these things sounds as if he is belittling the viewers and even Ms. King. His deviation from the simple question is suspicious and his arrogance is pronounced, especially when he refers to himself in the third person. Kelly's crude
language gives the audience the impression that he is immature and frankly unbelievable. Basically, Kelly isn't doing too well in the interview thus far.
He continues on with the interview, looking directly into one of the cameras as if he is speaking to the viewers, "Use your common sense. Forget the blogs. Forget how you feel about me. Hate me if you want to, love me if you want, but just use your common sense." At this point in the interview Kelly has delved into a full fledged rant. Obviously he is passionate but this does not excuse the fact that he is becoming hostile and impolite during the interview.
Kelly's version of common sense must be different from everyone else because legitimate "common sense" would say that he is guilty of these crimes. There are multiple reliable women plausible stories who have publicly stated the abuse committed against them by Kelly. None of these women are benefiting from tying their names and faces to a scandal. In fact, they might even be negatively affecting their lives and careers, but they are doing it despite the consequences to make sure that justice is received. Of course when allegations of any kind are made, in the case of Jussie Smollett, they are not always true. Many times however, the victims are speaking the truth. Oftentimes victims don't come out until many years later, but the reason is because they have been silenced for many years out of fear or shame. These emotions are damaging, especially to young people, and can create a lifetime of struggles.
The rant continues on with R. Kelly yelling "I didn't do this stuff. This is not me. I'm fighting for my mother [expletive] life. Y'all killing me with this [expletive]. You killing me man. Y'all just don't wanna believe the truth. You don't wanna believe it."
At this point his tone is extremely aggressive and he is yelling. Kelly is seen pacing around the room, pounding his chest and punching the air. Ms. King tries to keep the quickly escalated situation under control, but Kelly's assistants eventually intervene. To fully grasp how shocking his outburst and change in attitude from lowly victim to enraged man is, watch snippets of the interview on YouTube.
The entire interview would have been a train wreck had it not been for Gayle King. Her calm professionalism is what saved the interview from becoming an R. Kelly tirade. Interpret the interview and R. Kelly's behavior however you wish, but if you take away one thing from this interview let it be how victims should be believed, despite how long ago the incident occured or if the accused is well-known and respected. Take XXX Tentacion for
example: he had been accused of domestic abuse by his ex-girlfriend yet no one believed her. There was real evidence proving the abuse but all his fans continued to support him. Arguably, R. Kelly is not as relevant as the late XXX Tentacion, but if it he had the same following then the reaction would likely be similar. Accepting that someone you admire has faults is difficult, but it is necessary so that the abuser doesn't continue to succeed while
the victim is forced to live their entire life without their trauma being acknowledged. Choose the morally correct option and don't support artists, actors, or anyone for that matter, that has been involved in sexual misconduct.