A Math Teacher's Favorite Dessert: Pi! 

Students at Mt. Sac ECA were involved in a day-long celebration filled with mathematical equations and plenty of pie on Pi day which took place Friday, March 13th.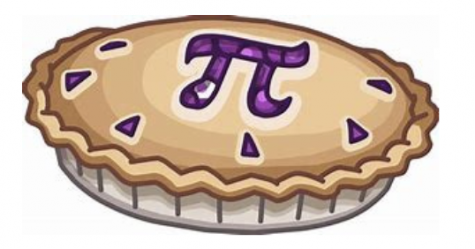 Pi Day is an annual commemoration dedicated to the iconic mathematical sign of pi, whose first three digits are engraved in the minds of math whizzes around the world.  Ms. Maggiore, the Integrated Math 2 teacher, defines pi perfectly, stating, "It is the number that represents the ratio of the circumference to the diameter of every circle." The usage of pi has been constant for over 250 years which makes it one of the most well known mathematical constants.
"
This is an opportunity to learn about pie, and to make it sweeter, you can get a pie in return!"
— Ms. Sprague
Typically, Pi Day is recognized on the numerical date, 3.14, but because it fell on a Saturday, it was instead celebrated at Mt. Sac ECA the day prior. During lunch, the Math Honors Society sponsored a Pi Day booth, where students were given the chance to earn a delightful slice of their own. At the booth, members of the Math Honors Society gave students the option of pumpkin, Dutch apple, and lemon meringue pie. Everyone was lining up in front of the mouth-watering goodies, eyeing the slices of pie as they were being handed out.
They weren't able to just grab a slice and go, however. In order to receive a treat, students had to form a line and wait patiently to tell the members of the booth an interesting fact about the irrational number itself, pi. As Ms. Sprague puts it, "This is an opportunity to learn about pie, and to make it sweeter, you can get a pie in return!"
As this event took place, Sergio Escobar Sanchez, a freshman student-journalist for the Academy Chronicle, was able to attain some information about this celebration from Ms. Sprague, the Integrated Math 1 teacher at Mt. Sac ECA. When asked about her thoughts on the significance of Pi Day, she began by saying, "Some [people] celebrate [Pi Day] without discussing the meaning behind it."
She explained that most people consider the celebration of the universal number to be a day mainly consumed of sweet pies and deals on savory pizzas. Ms. Sprague enthusiastically continued to provide reasons as to why pi is so interesting, "It is irrational and [goes on] forever! Even computers are processing millions of pi by seconds and the message missed [is that] there is more to the actual number."
Ms. Maggiore also had a few things to say about pi, itself. When asked by Isabella Zepeda, a freshman student-journalist for the Academy Chronicle, why it was so important for her students to learn about pi, she said, "I think it's important for students to learn about pi, of course, but the bigger picture is that I want to help students build enthusiasm for math in general." By conducting pi-related activities throughout her class, it's safe to say that all her students were actively engaged in the mathematical commemoration of Pi Day.
All in all, the event was a success in terms of students exploring the meaning and importance of pi. By engaging in this event, students not only earned delicious pie, but they also learned more about the history of the iconic irrational number and its role in modern-day technology today.