TCS: Sleep Away with this New Spray!
TCS (Timberwolves Changing Stigma), created a sleeping spray made out of distilled water and essential oils to promote sleep awareness month. This spray was lead to believe to release stress as well as helping people get a restful sleep.
We asked one of the members of TCS on how the spray is effective to release stress and how it contributes to mental health. Anisa Oza, a member of the TCS club stated, "The purpose of the club is to promote mental health and the sprays were sort of linked to be stress free or help to relieve stress and the connection to relieve stress was a better mental health". When using the spray, spray about 2-3 pumps on your pillow and with that you may be less stressed and get a better sleep.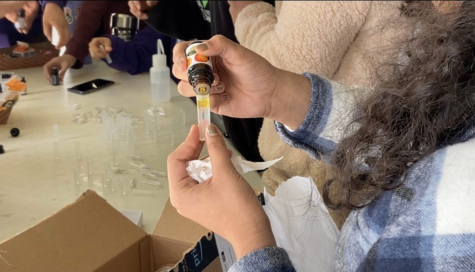 This spray is very effective for some students. Angelina Martinez, a sophomore who made the spray said, "I did use the spray, and it worked great. I put lavender essential oils which are used to help relax muscles and lower anxiety. This really helped me get a good night's sleep and wake up refreshed the next morning. " This spray is highly recommended for students. If you would like to reduce stress and sleep better, try this spray!