The Earth is at Our Fingertips
Students Use a Paper and a Ruler to Measure the Earth on Eratosthenes Day
Students at Mt. SAC ECA are using a 2,200 year old method created by mathematician, Eratosthenes, utilizing geometry to measure the circumference of the earth.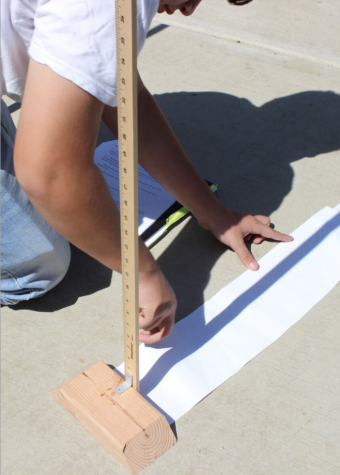 A very small number of students and people approach to attempt this experiment, but some of the students, along with Ms. Maggiore, built and utilized equipment to be able to follow through with the actions necessary to perform the experiment. On September twenty third, students came in collectively after lunch to take their measurements. They will input the numbers they got as a result into different equations that will read to their final measurements. After analyzing and doing comparisons, students will find their final conclusions.
Mt. SAC ECA is one of two schools in the United States participating in the experiment. Students participated using a website solely based on the experiment, they registered and then began their journey and process of learning the method and taking it into play. Freshman, Isabella Zepeda, stated "I thought it was really neat and it felt awesome to be apart of something that was worldwide. Ms.Maggiore also mentioned that we are one of two states doing this and I thought that was really cool.
This was an amazing experience and hopefully this can be carried throughout as an annual project. Ms.Maggiore added that "I think it was great, the students participating got a better understanding and measured the circumference of the earth. It was a great experience that showed that with so little you can do something so big." When asking Ms. Maggiore whether this experiment might be considered an annual project she responded. "Yeah absolutely it is an annual project I would support doing every year."
A greek writer, astronomer, and poet named Eratosthenes was first to make a measurement of the Earth. He lived in Egypt and made measurements there. Every summer solstice in a location north of Syene, the sun would be directly overhead at twelve noon. Using observations and measurements he conducted the experiment. Students today used the same methods for their own answers. With this extraordinary experiment to kick off the beginning of the school year, we can foresee this school year being nothing short of astonishing.