Hoax: Kidnappings At West Covina
Previously Published October 2 2019
Three West Covina students claimed that someone tried to kidnap them while walking home from school on September 4th and 5th near Traweek Middle School and Workman Avenue by a suspicious man driving a black sedan and another in a Mercedes. Two of the incidents took place in the afternoon and the other in the morning.
On September 4th, two calls were reported to the WCPD: At 1:18pm, presumably a man pulled up in a black sedan and asked a 10-year-old girl walking down the street if she wanted a ride home from school near Workman and Ellen Avenues. On top of this, another call was made at around 3:06pm in relation to a passerby who stated that they saw a man following a young girl down the roads Lark Ellen Avenue and Workman Avenue. Police were trying to find if any of these two reports were in any way connected to each other. However, the WCPD issued a news release on the events and said "Officers were unable to locate the girl and reporting parties."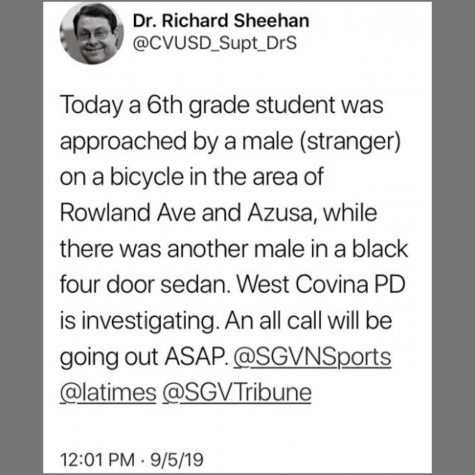 A day later another call was made: According to ktla5, a 12-year- old male student from Traweek Middle School had reported a man driving a black Mercedes approached him and another man on a bicycle tried to lure him into the vehicle from behind. The student said he was able to get away and report the incident to school authorities. After this report, Police interviewed the 12-year-old boy and he admitted that he had made up the whole thing;. A watch commander at the WCPD said, "The reports were found to be false."
Additionally, based on these reports, the WCPD did not receive enough evidence to verify the case on September 4th; they posted on their official twitter account that the kidnappings did not occur. According to NBC LA, they police also determined that children are "not in danger of being kidnapped near schools", based on the evidence they
gathered.
According to analytical data on Neighborhood Scout, a geographical data search engine used by Department of Homeland Security, West Covina has a crime rate that is higher than 73% of the state's other cities and towns; the violent crime is considerably lower, however. This means that West Covina has more burglaries and other non-violent crimes than other communities in the area.
It is important to stay safe walking home from school, especially alone. To avoid possible danger, here are a few tips on safety and prevention:
Make sure to stick to a safe route to and from school. Stay away from alleyways and other places away from public view.
If it's possible, walk with a friend or older sibling.
Pay attention to your surroundings and walk with caution.
Wear reflective or bright clothing, especially at night.
If you someone you don't know approaches you, or if you feel a sense of danger, quickly move to a safe location.
Yell or shout for help to indicate that you are in danger.
Call 911 to ensure your safety.