Joe Keery's Rubbish New Haircut Surprises Fans
Previously Published October 2 2019
Joe Keery, the actor who plays Steve Harrington on the hit Netflix series Stranger Things, surprised his fans with his new haircut when he arrived with his girlfriend, Maika Monroes, at a Los Angeles event on Friday, September 13.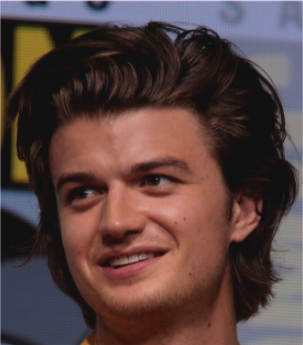 When the twenty-seven-year-old revealed his bowl cut at the Chanel Fragrance event in Los Angeles, fans began to mourn his old hair. Many were shocked and upset; even saying that he looks like a completely new person because of the sudden change in haircut. Joe's new look is very different from his role as Steve Harrington and the people are upset that his new haircut is so different to his role.
Ms. Sprague, math teacher, said, "The haircut fits somewhat with the time period of the show, but it's still not a good look for Joe Keery." While there is no evidence that Keery cut his hair for the show, it is a possibility and some people are really upset about this chance. "He better not have that haircut for Season 4," says Dyanna Gracia, freshman student, while Ms. Yao, PE teacher, puts it more bluntly, "It's ugly."
Due to all the negative feedback from his fans, Keery showed that he did change his hair back to its iconic "Farrah Fawcett" style just a few days later. While we are thankful for Joe bringing back his iconic hair, fans are more interested in how the Season 4 of Stranger Things will go; the teaser for Season 4 dropped on Youtube September 30th, leaving us wondering whether this may be the end of this iconic story.