Which is Better: Snapchat Or Instagram?
Previously Published October 2 2019
Snapchat vs. Instagram. A competing battle that's been happening since 2015. Instagram and Snapchat users don't know which one is better.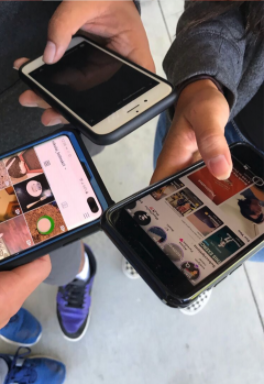 Most people like Instagram over Snapchat because they prefer the ability to share every post with their followers rather than only a select few people.
Nathaniel Cadena, a freshman, stated, "Instagram is better because you have 24 hours stories and you can screenshot them." Natalie Berganza, a freshman said "Instagram is better because you're able to share things with friends and share whatever you want and express yourself." Stories are short featured videos that people choose to be shown when you click on their profile picture. The difference between Snapchat and Instagram is that Instagram has a platform and is more popular than Snapchat.
In a recent class poll of 21 students, 80% of the students liked Instagram more than Snapchat, because of the Stories function.
Samantha Ordaz, a freshman who participated in the poll, said, "You can view people's stories on Instagram and see pictures from their account and get more follows."
"
Distracted from distraction by distraction.
— T.S. Eliot, Author of The Wasteland
Instagram also allows business accounts which can help people grow their businesses. Last year, West Covina High School posted a shoutout for Homecoming flowers that were created by a Snapchat business account by the name of @heavenlyflowersbygrace.
Less people like Snapchat because you can send more videos and your text deletes after 24 hours of sending it. If you don't want your text to get deleted, you can to save them. If you took a photo and it is opened by someone else, it gets permanently deleted. That is one of the reasons why people don't like Snapchat.
"Snapchat is better because you can send streaks to all your friends," said Lynette Vazquez, a freshman at Mt. SAC ECA. She is referring to when you send your friends a video and it keeps going on and on without stopping.
We interviewed, Hannah Ramirez, about which social platform is better. When asked which platform she preferred she answered, "I prefer Snapchat only because it's easier to use. I use Instagram, however only to text people." She prefers Snapchat
because it is more flexible to use.