Student Spotlight: Lana Liev's Tik Tok Fame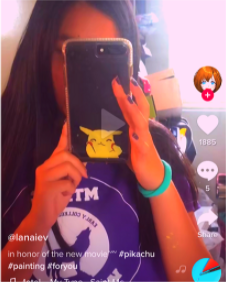 Originally Published October 2 2019
TikTok, the widely popular video sharing platform has turned many young teens into well-known creators, including our very own sophomore, Lana Liev.
The ASB secretary acquired a reputation on TikTok for painting cute and quirky characters onto small canvases and phone cases. Her videos include paintings of various animated characters from television shows and movies. Despite being primarily a comedy based app, many artists, including Lana, have been using the platform to showcase their talent. Many popular artists on TikTok paint on non-conventional surfaces such as water bottles, bedroom doors, mirrors, and even jeans. This has allowed TikTok artists to express their creativity without the normal constraints of a canvas.
"I like to paint on everything but mainly smaller areas so they are just like little spots of art on something like clothes, jeans, or a tiny canvas." stated Lana, "It's something to kill time and add a little art or creativity onto some of my everyday objects, also because tiny paintings are cute."
Lana's most-watched TikTok, a video that showcases a painting of Pickachu on her phone case, has almost two thousand views. "After my video started to gain more views, I got more inspired and wanted to try new types of art on new objects. I just wanted to make more videos." She prefers to make her TikToks about her art pieces, opting not to show her face.
"I like to make my videos about my paintings or whatever art piece I'm working on," Lana remarked, "I don't show my face in my videos, just the art."
The app has over 500 million daily users which is more than both Snapchat and Twitter. TikTok continues to grow daily and is nearly as popular as Instagram. The amount of users has increased by almost 70% since 2018 and gained an additional 13.2 million users in the first three months of 2019 according to the New York Times.
TikTok is a new way for people to express themselves and showcase their creativity. Many teens are flocking to the app in hopes of gaining fame or just wanting to make people laugh. By putting their own ideas out there, millions of viewers are able to like and share their content. Be sure to check out Lana's TikTok @lanaiev