Freshman Friday | Andres Bocardo
Club president, club founder, writer, and boxing dog trainer, Andres Bocardo is the impressive 14 year old freshman at Mt. SAC ECA accomplishing all this and more! 
In only a few months Andres founded and was elected president of the Manga Club. He created Manga Club but it originally wasn't his idea. "My friend, Ronald, actually came up with the idea," he said. " I just thought it was a good idea." He continued to say that he and Ronald thought about making a Manga Club all throughout summer. 
His favorite thing about Manga Club is the members. At first he felt awkward asking random people if they wanted to join Manga Club,  "[. . .] but since we've been growing and bonding it's actually been pretty nice being able to talk to other people besides my friends I made in the past."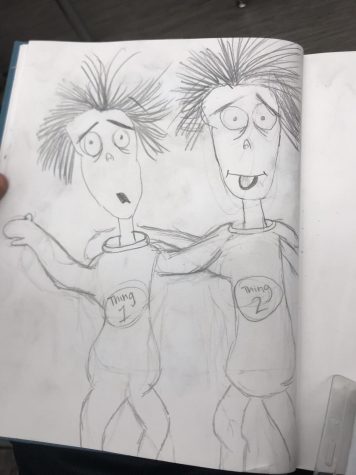 Besides his role as president in Manga Club, Andres also writes and draws. Though he believes he is not the best artist he thinks that he is decent in writing and is currently creating his own manga titled "Once Upon A Butterfly". Pouring all of his attention to Manga Club, Andres isn't involved in any other clubs on campus but does attend his church and lends a helping hand after service.
When not at school, he likes to take care of his sister's dog and two cats. Finding it impossible to pick a favorite pet since he loves them equally, he said,"[…] if I had to pick one I'd probably pick Molly (a black and white cat) 'cus she's the troublemaker and I feel like I live like her." 
Though not being a cat person, he eventually got used to them since his sister got the two cats just recently. However, his love for dogs never weakened, even jokingly saying, "[. . .] I trained him. I'm his personal boxer trainer," when talking about one of his dogs that tried to "box" with other dogs.
When he is not taking care of his sisters' pets or working on school and club work, he finds himself playing video games or watching anime. A few of his favorite video games are Apex Legends and any of the Pokémon games he's played and a few of his favorite animes include Black Clover and One Piece.
From committed leader to friend to animals, Andres is someone that many regard as a good-hearted, amiable friend.
Donate to The Academy Chronicle